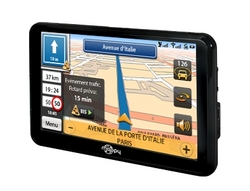 This latest connected PND launch shows the way to a future where all connected PNDs are based on an open OS enabling them to add services on the go
(PRWEB) October 28, 2010
Logicom has launched its first connected PND under the Mappy brand, with MyLive Traffic®, full Coyote speed radar services and a catalogue of other applications.
First distributed in Auchan, the devices will also be available at Boulanger, Carrefour, Casino, Cdiscount, Pixmania and rueducommerce retail channels by the end of October.
On sale today for €199, the device offers real-time traffic information from NAVTEQ, real-time speed camera information from Coyote Systems, parking availability from Oumegarer, business listings from PagesJaunes (as well as PageBlanches personal listings) and worldwide weather data from CustomWeather.
However, since the PND is built on the MCT2.0 Open Telematics OS from Mobile Devices, more applications can be added later.
"Demonstrating that the PND is an open platform for services was very important in the strategy of this launch" said Marylène Ozon, spokeswoman for Logicom.
Cyril Zeller, VP of Sales and Marketing at Mobile Devices, commented: "This latest connected PND launch shows the way to a future where all connected PNDs will be based on an open OS, enabling them to add services on the go. Currently, Mobile Devices' solution is the only viable environment to make that happen."
Despite being €100 cheaper than its direct competitors, the Ulti 590 packs in more unique features.
Mappy's new connected PND comes with Mobile Devices' MyLive Traffic®, which enables live, personal route calculation and traffic jam alerts. The service uses NAVTEQ's live and historical traffic data feeds in the route calculation. It then alerts the driver if an event takes place on his route.
The Mappy Ulti 590 also includes:

The full PageJaune and PagesBlances services, with access to a daily updated database of 5.2 million professionals and 25 million individuals in France.
Access to Oumegarer, the only parking database in France to have indexed more than 90% of the car parks - some with tariff info, reservation systems, car size info and live availability data.
CustomWeather services, giving motorists access to the latest weather information to help them plan for any hazardous driving conditions, including snow, sleet, freezing rain, fog, and high winds. The data includes current visibility updated every 30 minutes, detailed 48-hour weather forecasts as well as extended 7-day forecasts and astronomy reports.
Built on the Open Telematics OS form, Mobile Devices enables the PND to be open to other third party applications and ensures that each service is integrated perfectly with the navigation function and the other applications. As a result, a route calculation with live traffic information can be initiated from a Yellow Pages search result.
Mobile Devices delivers a leading open telematics OS and its SDK for a wide range of devices and solutions targeting both the consumer and fleet markets and enabling a marketplace for telematics services. Mobile Devices is also a leading provider of next generation connected navigation devices, smart displays, dongles and black boxes, all running through a single open telematics OS and cloud-based gateway solution. (http://www.mobile-devices.fr)
Mappy PNDs are the result of an exclusive partnership between Mappy and Logicom. Logicom, created in 1994, is a specialist in the field of consumer electronics and, more particularly, in telecommunication terminals. Logicom has supplied France Télécom since 1998, and has been selected by Sanyo to become its exclusive distributor of audio-visual products in France.
LG-Nortel, a joint venture between LG Electronics and Nortel, has used Logicom's distribution network since 2005, and Logicom has distributed Mappy PNDs through various retail brands and channels since 2008.
###