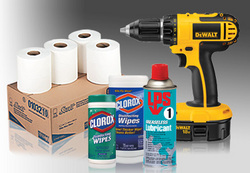 Buffalo, NY (PRWEB) October 27, 2010
Adding to its already extensive line of safety, security and compliance products, Emedco today announces the addition of two product lines to its online and catalog offerings – Janitorial & Sanitation and Maintenance & Repair.
Emedco's new line of Janitorial & Sanitation products help ensure your workplace stays clean, sanitary and safe. We are now offering products from top manufacturers including: Clorox, Lysol, Spic & Span, Rubbermaid, Hoover, Kleenex, Kimberly Clark and more. New products include: trash and waste can liners; towels and tissues; cleaning and disinfecting supplies; and a variety of cleaning tools.
The company's new Maintenance & Repair product line features tools and supplies to keep your facility and job sites in working order. This new product line includes power tools, hand tools, adhesives, sealants, tapes and much more from well-known brands like DeWalt, Stanley, Loctite, and Bosch.
In addition to these new products, Emedco has also expanded four of its product lines including First Aid & Eyewash, Spill Control, Personal Protective Equipment and Confined Space. These new product lines further position Emedco as the one-stop-shop for companies' safety, security and compliance needs.
To view Emedco's full selection of products, visit http://www.emedco.com.
About Emedco:
Emedco is a direct marketer and manufacturer of safety and security communication products. The company, founded in 1949, is located in Williamsville, N.Y. and employs approximately 150 people. Emedco is a subsidiary of Brady Corporation, located in Milwaukee, Wis.
###