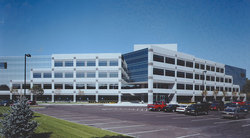 "At OneCommand, our greatest assets and top priorities have always been our employees and our customers," said Al Babbington, OneCommand CEO.
Cincinnati, OH (PRWEB) October 26, 2010
OneCommand (http://www.onecommand.com), the nation's leader in preference-based, automated, multi-channel marketing, has announced that it will be expanding its base of operations with the move of its corporate headquarters to a new and improved office space. OneCommand, which was named one of the fastest-growing, privately-held companies in the U.S. for the fourth year in a row by Inc. Magazine, will relocate its Cincinnati operations to a custom-designed facility in the nearby suburb of Mason, Ohio.
"As we continue to focus on innovating to help our clients realize significant improvements in customer loyalty and retention - as well as their overall profitability - we felt we needed an environment that could both foster and reflect our teams' remarkable capacity for creative, innovative and collaborative thinking," said Jeff Hart, OneCommand President and COO. "We believe that this improved, expanded and more technologically sophisticated environment for our Cincinnati team will ultimately translate into even better service for our customers, while improving the efficiency and effectiveness of our overall operations."
The new location, custom-designed for OneCommand, includes enhanced employee amenities, such as a large break room, updated workstations, state of the art meeting facilities, a wellness center, and a more fluid environment to facilitate communications and workflow, while increasing efficiencies across departments. Access to several major thoroughfares, including interstate 71, makes the company's new offices easier to reach, and numerous hotels within walking distance afford convenience for visiting field employees, partners and customers. The building offers secure entry, ample parking, unique modern architecture and boasts greater brand visibility for the company.
"At OneCommand, our greatest assets and top priorities have always been our employees and our customers," said Al Babbington, OneCommand CEO. "The new facility offers an atmosphere in which our teams will be able to work more efficiently to deliver the exceptional level of support that our customers expect. We look forward to continued growth and success in this new location."
OneCommand will maintain executive offices in Costa Mesa, California, located at 575 Anton Blvd, Suite 700, Costa Mesa, CA 92626.
*OneCommand was named to Inc. Magazine's 2010 list of America's fastest growing companies — the Inc. 5000, its fourth year in a row on the list.
About OneCommand (http://www.onecommand.com)
OneCommand is a leading provider of integrated and automated, personalized communications designed to streamline workflow, reduce marketing expense and generate superior customer response. Focusing on the delivery of the right message, at the right time, and through the right channel, OneCommand has rapidly expanded its market penetration by helping its clients realize significant improvements in loyalty and retention, frequency of visit and overall profitability.
In 2009 the Company delivered millions of personalized communications on behalf of its dealer clients – nearly doubling their communication during some of the most challenging market conditions.
OneCommand's proven, web-based Relationship Performance Marketing Solutions enable customers to leverage the power of their voice through a multitude of channels, including voice messaging, mobile messaging, e-mail marketing, live call center services, direct mail and a variety of other two-way communication streams.
By providing a seamless solution for communication from shop to buy to service and repurchase, OneCommand offers the opportunity to coordinate a unified message to customers. This approach, paired with custom automation of timely, relevant and consistent communications, has led to significant reductions in marketing expense and even greater improvements in the customer experience. For more information call 1.800.814.6820, email lleugers(at)onecommand(dot)com or visit http://www.onecommand.com.
###