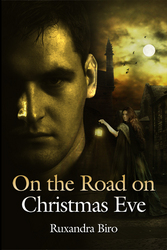 Pittsburgh, PA (Vocus) October 27, 2010
On the Road on Christmas Eve, a new book by Ruxandra Biro, has been released by RoseDog Books.
A woman with strange scars on her hands, accompanied by a huge black cat, arrives in a little Spanish town during a plague epidemic. It is the beginning of the sixteenth century, and the Catholic Church sees witches everywhere. When the doctor of the town dies during the epidemic, the stranger begins miraculously curing the sick. The young priest of the town finds himself torn between his compassion for his parishioners, his impossible love for the stranger, and his duty as a member of the Catholic Church. It is only a matter of time before the stranger faces charges of witchery and before the local priest will have to make his choice. Will their story end at the stake in the name of a religion that speaks about mercy and love?
Ruxandra Biro was born in Bucharest, the capital city of Romania, on February 19, 1973. She has grown up and lived her teenage years in a gray Socialist society with no prospective of a job she would enjoy. When Biro was sixteen years old, she decided it was time to do something about it. So she tried to flee Romania, get to the States by herself, and become a writer there. Of course, the Militia caught her somewhere near the border between Romania and Yugoslavia. Biro was lucky the officers who caught her were nice persons and treated her very well, though she was at their mercy. They never reported to the Communist authorities. They just mailed her home by the first train to Bucharest. It was the summer of 1989. In the winter, the Communist regime fell in Romania.
On the Road on Christmas Eve is an 86-page paperback with a retail price of $12.00. The ISBN is 978-1-4349-9891-0. It was published by RoseDog Books of Pittsburgh, Pennsylvania. For more information or to request a review copy, please visit our virtual pressroom at http://www.rosedog.com/pressroom or our online bookstore at http://www.rosedogbookstore.com.
###