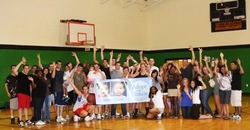 We will continue to find ways to give back to the community and help those in need.
Bala Cynwyd, PA (PRWEB) October 27, 2010
Distinctive Solutions, Inc., a Philadelphia-based direct marketing and sales office, announced that the company recently sponsored its first annual three-on-three basketball tournament to raise money for the non-profit organization Operation Smile this fall. Operation Smile is a non-profit service organization that provides cleft lip and palate repair surgeries to children worldwide. To date, Operation Smile has provided reconstructive surgery to more than 150,000 children and young adults in more than 50 countries.
George Papalexandratos, president of Distinctive Solutions Philadelphia, Inc., was inspired to take action and raise money for Operation Smile after being introduced to the non-profit's transformative work through a networking and professional development event. George Papalexandratos was so moved by the work of Operation Smile that he arranged for someone to speak directly with his team on behalf of the organization and its fundraising efforts. Soon thereafter, George and one of his top leaders decided to organize the basketball tournament with the support of the entire Philadelphia team.
In addition to the participation of Distinctive Solutions, Inc.'s Philadelphia office, four other regionally-based companies were invited to participate. With friends and family from each office attending to compete in the tournament and support the charity event, more than 60 people were in attendance.
With financial donations and the collection of a tournament fee for each participant, the first annual tournament was able to exceed its fundraising expectations for Operation Smile. Following the event, Distinctive Solutions, Inc. held a barbeque to thank everyone for their participation and their financial contributions.
"The enthusiasm and generosity shown by everyone involved went beyond expectations," said George Papalexandratos. "I am extremely proud that our first charity event was able to help support such a great cause. By building upon this weekend's success, we hope to sponsor additional community outreach and charity events in the future."
The three-on-three basketball tournament is only the first of many ways in which Distinctive Solutions Philadelphia will support Operation Smile and children with facial deformities worldwide.
"We are always eager to support new causes," George Papalexandratos said. "We will continue to find ways to give back to the community and help those in need."
Follow Distinctive Solutions, Inc. on Facebook and Twitter.
About Distinctive Solutions, Inc.
Distinctive Solutions, Inc. is the leading provider of outsourced, face-to-face sales and marketing teams to a diverse range of clients. Their clients benefit from their professional sales and marketing teams who will work on their behalf to institute immediate, widespread and aggressive campaigns. For more information please contact at 610.660.5242 or visit http://www.dsphiladelphia.com.
###