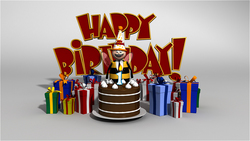 "We're expecting to take a loss of at least half our daily product budget! Any more days like this and we'll be out of business, so take advantage!"
Wilmington, DE (PRWEB) October 28, 2010
Industry leading penny auction site Beezid.com is giving back to their users with a promotion unlike any in the history of the penny auction industry.
"We've had a great first year and we wanted to find a way to give back to the users who have made Beezid the industry leader it has become. The Beezid Birthday Bash is a great way for us to do that," said Beezid CEO Max Bohbot.
On November 3rd, beginning at midnight and continuing until 11:59 pm EDT, users will get back each and every bid they place, win or lose. To ensure that the inevitable higher bid total doesn't drive prices up too high, Beezid guarantees that each item will sell for no more than 50% of the actual retail price. Users do have to pay the closing auction price and shipping costs but auctions will be free to bid on and savings will be in the range of 50-99% off, guaranteed.
"Our users are accustomed to big savings, and the anniversary promo will ensure that they're not disappointed." Bohbot continued, "We're expecting to take a loss of at least half our daily product budget! Any more days like this and we'll be out of business, so take advantage!"
Anyone can take advantage of this promotion, new users and old. Due to the bids being returned, the savings that shoppers can incur will be like nothing seen before on any penny auction site.
"We have prepared for it by offering many more auctions than the usual quota to help ensure that as many users as possible will be getting what they want for less," Bohbot adds.
Those who have never tried Beezid before should not miss out on this special event. Registration is quick and easy and new users will receive ten free bids with no obligation.
About BEEZID.com:
BEEZID.com is a top rated penny auction website which offers a thrilling spin on online auction shopping. Users take advantage of huge discounts on brand new, brand name products by forming bidding strategies and by using bonuses and incentives offered by Beezid. Launched in 2009, BEEZID.com is one of the biggest, most frequently visited and most-trusted sites of its kind world-wide.
Contact:
Max Bohbot
President & CEO
BEEZID.com
1-877-823-3943
###