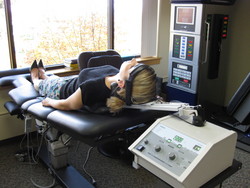 "The Kdt Spinal decompression System has demonstrated very good results with some of the most chronic cases of disc herniation/ bulges, disc degeneration, shoulder-arm and hand pain, facet syndrome and cervicogenic headache." Dr. Mahoney
Colchester, VT (PRWEB) October 28, 2010
Spinal Decompression is an advanced therapy for treating disc herniations, neck pain, arm pain, disc degeneration, disc bulge, muscle spasm, lower, middle and upper back pain. The therapy has brought relief to many patients worldwide. New and innovative spinal decompression has proven to be an effective, non-surgical treatment for spine and disc pain.
There are many reasons why people suffer from back pain. The most common ones include sciatica, herniated or bulging discs, and degenerative disc disease respectively. Through the means of new and innovative spinal decompression technique patients don't have to suffer pain and angst during the course of treatment. The big reason is that spinal decompression technique is non-invasive and surgical in nature.
Before starting spinal decompression. Dr. Mahoney will take a thorough history, review x-ray and MRI findings and decide if spinal decompression is the appropriate treatment.
Causes of back pain may include, car or vehicle accident, fall or any other traumatic activity, long term repetitive stress, poor spinal posture, aging, etc. Spinal decompression therapy or technique is done with the help of a special computer directed machine. The machine is FDA compliant, and the purpose is to stretch the spine gradually and gently in order to release the pressure from the affected discs.
The Kdt cervical spinal decompression technique works by building a negative pressure inside the disc to create a vacuum effect which ultimately helps in the reduction of size of the disc herniations. Dr. Mahoney may also add gentle spinal adjustments and low level laser treatment to his Rapid Pain Relief Treatment Program.
The duration of cervical spinal decompression treatment varies from 12-20 minutes.
Dr. Mahoney's Rapid Pain Relief/ Cervical Decompression Program lasts 6 weeks for the average patient. In cases of chronic cervical disc degeneration, herniations or arthritis, periodic treatments can help maintain a patient's spinal correction.
A Burlington, VT area spine specialist, Dr. Sean P. Mahoney, offers this new non-surgical treatment. "The Kdt Spinal Decompression System has demonstrated very good results with some of the most chronic cases of disc herniations/bulges, disc degeneration, shoulder-arm and hand pain, facet syndrome and cervicogenic headaches." Says Dr Sean P. Mahoney, Director of the Advanced Spine Disc Joint Centers in Colchester and Waitsfield, VT.
###