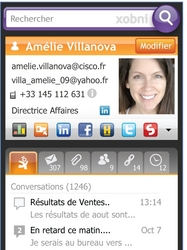 Nearly half of Xobni's 5 million downloads have come from users outside the US. Xobni responded to this demand by creating localized versions in top enterprise markets.
San Francisco, CA (PRWEB) October 27, 2010
Xobni, the company that helps people search and manage their contacts in Microsoft Outlook and on mobile devices, today announced the second localized version of its desktop product in French (http://xobni.com/fr)]. The company rolled out the first non-English version earlier this year in German and seeks to capitalize on the already strong user penetration in France, as well as additional enterprise opportunities uncovered in recent months since the Xobni Enterprise launch.
Since Xobni's launch in 2008, nearly half of its 5 million downloads have come from users outside the United States. Xobni responded to this demand by creating localized versions in their two biggest non-English speaking markets, and will continue with international expansion as demand continues. When Xobni detects a French operating system, its installation will now offer a complete French experience, with the option to change the program to English during installation or in-product. Similarly, users with an English OS will be prompted to install in English, with the option to switch to French.
"Our data has always shown a strong user-base of French speaking users – and we want to offer these valued users an option to use Xobni in their native language," said Michael Albers, director of product at Xobni. "This existing French user-base, combined with the strong enterprise demand in France, made it the logical next international target for us to bring the ultimate relationship management and organization to the French users inbox."
Product Summary

The French version of Xobni will be available for both the free and Plus versions of Xobni for Outlook.
French OS users will get a full French experience including installer, opening video, Xobni for Outlook client (except for social extensions), and a localized website.
Payment for Xobni Plus can be made with credit card or Paypal via the French order page.
Last November, Xobni released Xobni Enterprise to make it easy for businesses of all sizes to easily deploy, manage and customize Xobni throughout their organization. Xobni is seeking partnerships with leading solutions providers in France to respond to the demand and expand quickly in the French market.
About Xobni
Xobni ("inbox" spelled backwards) is a San Francisco startup that offers a better way to manage and search contacts and email through Outlook and on the BlackBerry. Xobni combines individual exchanges and social media content to give users a complete view of all their contacts in one place. Xobni provides lightning-fast email search and inbox organization, as well as a clever and comprehensive address book for mobile devices. The Xobni technology emerged from a graduate project at MIT in 2006, and has been downloaded over 5 million times since its public launch in May 2008. Xobni's first mobile product was developed for the BlackBerry and launched in March 2010. Xobni is funded by Khosla Ventures, RRE Ventures, Cisco Systems, BlackBerry Partners Fund, First Round Capital and others. For more information, visit xobni.com and select language preference at the bottom of the page or go direct to the localized version.
###