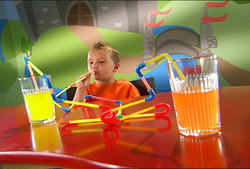 Provo, UT (PRWEB) October 27, 2010
Love the idea of having family and friends over for the holidays and throughout the year but don't know how to keep all the kids entertained? Now there's Super Sipperz™, packs of brightly colored rubberized connectors and straws that provide hours of unexpected laughter and entertainment for kids and the entire family. Best of all, whatever masterpiece your child builds becomes a functional straw for drinking juice, punch or water! Parents, you know how much your kids love drinking straws. Imagine how much they will love building and creating with their Super Sipperz. Super Sipperz takes drinking straws to the next galaxy!
Super Sipperz delivers interactive, creative and fun opportunities for kids of all ages and their families to build rockets, castles, dinosaurs, trains, or whatever your child can imagine. Use long winter days to turn simple project ideas into colorful compositions your kids will be proud to display.
Supper Sipperz are a boredom buster:

Hold a timed contest to construct one of the design ideas on http://www.GetSuperSipperz.com
Set up your own Constrawction Zone and create an awesome wearable, drinkable hat, tiara or helmet
Snack time becomes fun time when kids assemble their own amazing creations to enjoy their favorite liquid
Super Sipperz connects easily and quickly, which means kids can immediately tap into their seemingly limitless imaginations to build hundreds of designs. Each order comes with one pair of wacky straw glasses, nearly 57 colorful straws in two different sizes, and tons of brightly colorful rubberized connectors along with one convenient wash and carry mesh bag.
Super Sipperz are affordable, dishwasher safe and reusable, keeping tight shopping budgets in line this holiday season.
For the holidays, birthdays or any time, Super Sipperz celebrates the curiosity, creativity and originality of every child, while teaching basic skills such as concentration and teamwork. They make excellent birthday gifts and stocking stuffers, and multiple sets can make the most of play dates with friends. The more Super Sipperz you have, the more creative your child can become.
Super Sipperz are available online for $9.95 plus shipping and handling. For more information and to order, please visit http://www.GetSuperSipperz.com
# # #