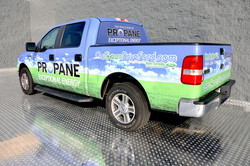 Propane is the perfect solution for landscapers looking to green up their portfolio
Livonia, MI (Vocus) October 26, 2010
ROUSH® CleanTech offers a double feature at the Green Industry Equipment + Expo as it chauffeurs out two of the company's most innovative propane-fueled vehicles guaranteed to trim landscapers' bottom line, a Ford F-250 pickup truck and E-450 cutaway van. The Expo will run October 28-30, 2010, at the Kentucky Exposition Center in Louisville.
"Propane is the perfect solution for landscapers looking to green up their portfolio," said Todd Mouw, ROUSH CleanTech's vice president of sales and marketing. "Landscaping companies across the country are looking for innovative ways to reduce fuel costs and their carbon footprint in an effort to market themselves as a green company. Propane is a readily-available fuel choice that offers a one-stop solution – not only can it effectively power mowing equipment, but it's the smart, clean choice for the vehicles transporting the equipment."
According to Mouw, propane is a reliable and safe fuel that delivers serious cutting power with lower exhaust emissions and no evaporative emissions. Combined with the statistic that 90 percent of propane used in the U.S. is produced domestically, Mouw expects more landscapers to be switching to propane in the near future, either as a conscious choice or to meet bid requirements that lean toward the utilization of green technology.
ROUSH CleanTech is poised to meet that demand with a line of liquid propane injection powered trucks and vans primed for the landscaper's needs. ROUSH CleanTech's 2010 liquid propane injection powered Ford F-250 pickup truck will be featured in the Propane Education & Research Council's Propane Pavilion Booth (#11198), while Heritage Propane's booth (#7918) will display a propane-fueled E-450 cutaway van complete with Knapheid box installed.
Eric Hansen, owner and operator of Competitive Lawn Service in Downers Grove, Ill., is working toward a lawn equipment company run entirely on propane. He has been switching both his work trucks and equipment to the alternative fuel. This year, he added his third Roush propane-powered truck.
"Financially, propane just makes sense," said Hansen. "After two years of using propane, I'm still finding a $1,500 per month savings over gasoline when I look at the combination of vehicles and equipment. Because the fuel runs cleaner, I have fewer oil changes and not as many issues with my landscaping equipment."
Hansen encourages landscapers to see for themselves the ROUSH difference. "ROUSH CleanTech's propane-fueled F-series production trucks meet the landscaper's needs, including an under-bed mounted tank and sizes ranging from the F-150 to the F-350. Their all-liquid injection starts in the winter and keeps on rolling with better fuel mileage."
GIE + Expo is the largest gathering of companies catering to the landscaping business. The two-day event will play host to more than 500 exhibiting companies covering 500,000 square feet and will feature outdoor demonstrations, featured speakers, and a wealth of information. For more information, visit http://www.gie-expo.com.
About the company: Based in Livonia, Mich., ROUSH® CleanTech offers dedicated liquid-propane injection fuel systems for a variety of light- and medium- duty Ford vehicles, including the F-150, F-250, and F-350 truck series, and the E-150, E-250, E-350, and E-450 cutaway van series. Currently offered through authorized Ford dealerships around the country, the ROUSH CleanTech propane system delivers the same factory Ford performance characteristics, warranty coverage, and serviceability. Customers can reduce operating costs significantly while reducing vehicle emissions. Complete details on ROUSH CleanTech propane offerings can be found online at http://www.ROUSHcleantech.com or by calling 800-59-ROUSH.
# # #