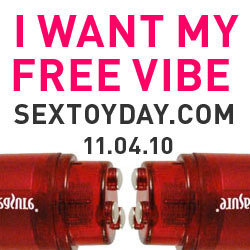 San Bruno, CA (PRWEB) October 28, 2010
November 4th will be celebrated across the nation as "Sex Toy Day," a day to recognize the benefits of sex toys and their widespread use and acceptance. To further support this trend, Sex Toy Day will include a promotional giveaway of 1,000 free vibrators to the first 1,000 people at SexToyDay.com on November 4, 2010. The vibrators will be given away completely free. There won't even be shipping charges.
"It is our hope that Sex Toy Day will give people the chance to experience the joy of sex toys completely risk free," says Dr. Sandor Gardos, founder of MyPleasure.com, a primary sponsor of Sex Toy Day. "Adult toys have been proven to lead to better health and positive sexual function, and they are safe, fun, effective and affordable."
Their popularity is also well documented. According to two recent national surveys from Indiana University, published in The Journal of Sexual Medicine and later featured in the New York Times, 53 percent of women and nearly half of all men report having used a vibrator.
Today, adult toys can be found with increasing ease, on everyday store shelves or through Internet retailers like MyPleasure.com. And the surveys show that sexual strictures tend to loosen in succeeding generations. Now, women who do not use an adult toy are the minority; whereas only a generation ago the reverse was true.
Visit SexToyDay.com on November 4th for your chance to receive a free sex toy. The giveaway starts at 11:00 a.m. EST. Sponsors of the event include MyPleasure, Sex with Emily, Wet Lubricants, and Devine Toys.
About Sex Toy Day
Sex Toy Day celebrates the opportunity to experience the joy of sex toys and introduces the fun back into people's sex lives. To promote and support the use of sex toys, the event will feature a mass giveaway of 1,000 waterproof personal vibrators. The event has been embraced by many leaders in the sexual wellness and sex therapy communities, and it is sponsored by MyPleasure, Sex with Emily, Wet Lubricants, and Devine Toys.
###