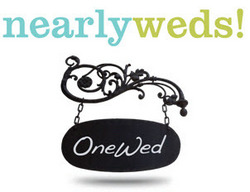 The combined company will create practical, honest, socially driven wedding content and tools to simplify the wedding planning process for engaged couples.
Seattle, WA (PRWEB) October 28, 2010
Nearlyweds, online providers of gorgeous, fun, easy-to-use wedding websites, announced today that it has acquired OneWed, a leading online wedding planning resource and home of WeddingPreParty.com, the only social network for all things wedding.
The combined company, Nearlyweds Inc., will pair the technology expertise of Nearlyweds with OneWed's growing loyal network of exceptional local wedding businesses to create practical, honest, socially driven wedding content and tools to simplify the wedding planning process for engaged couples.
Nearlyweds will continue to offer gorgeous, design-focused wedding websites and matching wedding stationery for today's engaged couples while adding access to OneWed's nationwide directory of 235,000 local wedding vendors. OneWed's daily dose of essential wedding ideas, inspiration, advice and imagery will remain, as well as the site's cutting edge Wedding Pre-Party social networking platform and largest online vendor directory. Stay tuned for exciting advances from the combined Nearlyweds-OneWed...as with any marriage, the best is yet to come!
"Engaged couples have repeatedly told us that their weddings are consumed by event planning, not the marriage. We're here to change that, to simplify planning, make it more social, and return the focus to the celebration of marriage," says John Scrofano, CEO of Nearlyweds. "OneWed has unmatched content, including one of the web's most visited wedding dress galleries, a top wedding blog, superior customer service, and burgeoning traffic. This combination will be a tremendous leap forward and will create one of the strongest players in the wedding industry."
"We are delighted to join the Nearlyweds family. OneWed has always believed that weddings should be about marriage, not the planning," says Jennifer Napier, CEO of OneWed. "With Nearlyweds, we can truly stop the madness of wedding planning by connecting brides and wedding professionals with the answers and tools to make planning for the future easy and enjoyable."
Nearlyweds is currently closing funding from well-known Seattle investors including Seattle-based Founders Co-op (the seed-stage fund run by Chris DeVore and Andy Sack, also sponsors of TechStars Seattle), Jon Kelly the CEO of ThisorThat.com, BuddyTV CEO Andy Liu and founder David Niu, Kelly Smith of Curious Office and Inkd, and Seattle-based Summit Capital.
About Nearlyweds:
Founded in 2007, Nearlyweds is the leading provider of highly customizable, design-focused wedding websites for today's engaged couples. The Nearlyweds' platform provides wedding stationery designers with a web based tool to create and sell wedding websites that match their wedding invitations and stationer y. Brilliant members of Nearlyweds Design Studio include Wedding Paper Divas, Feterie, Merryment Designs and Green Kangaroo.
About OneWed:
OneWed is the ultimate online source for the truth in wedding planning, providing couples with a wealth of tips, advice, and creative suggestions to help personalize their wedding. WeddingPreParty.com is the first social network for all things weddings, connecting the couple with friends and family. The site's popular wedding dresses gallery, wedding checklist, free wedding websites, award-winning wedding blog and largest directory of local wedding vendors-- 235,000 nationwide--attracts nearly 500,000 people monthly. OneWed can be found online at OneWed.com, facebook.com/Wedding.Planning, and twitter.com/OneWed.
# # #