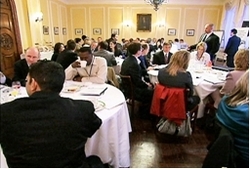 Product Management should be a recognized 'function' with a 'seat at the table'
New York, NY (PRWEB) October 27, 2010
The 2nd Product Management Leadership Summit (http://www.productmanagementexecboard.com) returns to New York City on December 1, 2010. This Summit will bring together senior leaders from Product Management and Marketing organizations from around the world to explore and share best practices that encourage the long-term performance and sustainability of the "function" of Product Management. The Product Management Leadership Summit will be held in New York City at the Downtown Association on December 1, 2010.
"This conference is particularly important," says Steven Haines, the Author of The Product Manager's Desk Reference and CEO of the Product Management Executive Board, "because of the urgent need to build a long-lasting sustainable model for Product Management in the organization." Haines goes on to say that "far too often, the structure and function of Product Management changes every time there is a new reorganization, and that this may be undermining our ability come up with innovative products." One of the reasons for this is that there is no standard method to cultivate Product Management as a true function - and Product Management should be a recognized function with a "seat at the table." With this context, the Product Management Leadership Summit, supported by the efforts of The Product Management Executive Board will contribute to the toolkit of senior leaders so that they are better able to sustain the function of Product Management within their organizations.
You can hear what others said about the previous Product Management Leadership Summit by viewing the video clips at http://www.productmanagementexecboard.com website.
At The Product Management Leadership Summit the speakers will be senior Product Management executives from IBM, Wall Street Journal, Sharp Electronics, FedEx, Aetna, and others who represent a variety of industries. These experts will facilitate lively discussions that center on cross-functional engagement, product performance management, business intelligence, and Product Management sustainability.
###