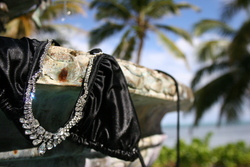 "The easiest way to avoid problems, is to make sure the customer is always happy"
San Pedro, Belize (PRWEB) October 27, 2010
While the locale and product may differ, savvy saleswoman Lara Lennon has put the skills she learned 20 years ago while waitressing in Lower Southampton, PA to work designing high-end bikinis from her home in San Pedro, Belize that are now sold internationally.
Business Lesson #1: "The guy on the other side of the counter just wants a hot cup of coffee" – Within a few days of waitressing at the Diner, Ms. Lennon learned that if you fail to give the customer "what he wants, when he wants it, and how he wants it, well, you won't be very happy going to work every day." Unhappy customers make for very unpleasant work, regardless of where you are or what you're doing. "I don't like problems, and I definitely don't like complaints," she explains, "so I learned the easiest way to avoid problems is to make sure that the customer is always happy."
Whether it's serving coffee in a suburban diner or designing luxury bikinis in paradise, Ms. Lennon's mentality remains the same. "In order to grow a luxury, high end bikini line in a weary economy, I have to think as a customer. I am my own customer. When I design each suit, I think,"Would I wear this? Would I perceive this to be a quality garment? Would the women from the Main Line of Philadelphia think this is a quality garment?'" Ms. Lennon says. "If I serve my client anything other than the highest quality, luxurious, truly unique product, they'd treat me the same way as the guy to whom I served a cold cup of coffee. And I'd deserve it. You only do some things once."
Business Lesson #2: "A Great White Leather Purse Is Worth It" – Ms. Lennon's sense of style always ran a touch vintage and touch trendy, and she fondly remembers the white leather patchwork handbag that was "OH, SO FABULOUSLY '80s" sold in a boutique in the same strip mall as the Diner. While the bag was a trend, it was a quality, well-made bag that made the leap from fad to stylish. The same bag now would be very much in style as a 'retro' bag.
This eye for style transcending trend started with her love of vintage costume jewelry, items as beautiful today as they were when worn 50 years ago. The quality of these pieces is not found in such baubles that are readily available today. In fact, many designers are incorporating vintage styles in their jewelry lines today, but the quality is simply not the same. "The timelessness of the vintage jewelry, the quality of the pieces, the fact that they are quite literally one-of-a-kind bathing suits that are hand sewn with these classic gems, is what makes Lemon Crush Belize swimwear transcendent of a fad and fashionably satisfying a very real fashion need," she exclaims.
Lemon Crush Belize provides an exclusive, quality product that has become the new trend in swimwear, bridal wear, pageant wear, and formal wear. These bikini lines are like that leather purse – transcending the fad to truly be the ultimate in style.
Business Lesson #3: "How to Sell Water to a Camel" – After asking a customer if he wanted more pie, Ms. Lennon, a high school senior at the time, was told, "girl, you could sell water to a camel!" It was at that moment that Ms. Lennon instantly understood two key things: a) Give someone what they want, and its very easy to sell it to them; and b) You have to sell to make money. "I was working for tips. The more food I put in front of the customer, the more money I made," she recalls.
Living on a small tropical island in the Caribbean has its perks, but launching an exclusive swimsuit line from such a place is a challenge. There are few runways and fashion shows in Belize. There are fewer fashion media making the most of the sultry paradise. Ms. Lennon, however, has been more than up for the challenge. Realizing her product and home base were off the beaten path and the economy was slowing the purchase of luxury items, she knew she had to take an unusual sales approach. In keeping with Ms. Lennon's habit of giving a nod to the past, she decided to sell her line by loading up her suits up and approaching individual boutiques to place them in the stores by 'beating the streets'. "I am over the moon to be able to add San Salvador, El Salvador to the growing list of fashion forward cities in which Lemon Crush Belize are sold," Ms. Lennon recently announced.
Lemon Crush Belize swimwear is now available in the following cities: Palm Springs, California, Las Vegas, Nevada, South Beach Miami, Florida, San Salvador, El Salvador, and San Pedro, Ambergris Caye, Belize.
When asked where in Philadelphia she could be found, she sighed. "Oh, Ms. Joan Schepp, what must a girl do to get your attention?" Bringing herself and her suits back to the Philadelphia area November 15 - 19, Ms. Lennon is hoping to be able to add "Philadelphia" to her list of "fashion forward cities." "After all," she says, "I'm a Philly girl at heart."
Founded in 2009, Lemon Crush Belize quickly grew to become the Caribbean and Central America's premier fashion house for designer swimwear and has been modeled by Pagaent delegates from every country in Central America as well as Cuba. Each one of a kind, hand made suit is intended for formal occasions such as a beach wedding, or whenever a girl wants to dress up. Described as "Jimmy Choo's for your Boobs" by some, the collection can be worn to destination weddings, on yachts, or poolside when a woman wants to exude her most powerful, confident self. For more information on Lemon Crush Belize, go to http://www.lemoncrushbelize.com. For more information on Belize travel and tourism, please go to http://www.romantictravelbelize.com
Contact: Lara Lennon
Lemon Crush Belize
PO Box 241 San Pedro, Belize, CA
011-501-670-5272
215-469-2496
http://www.lemoncrushbelize.com
lara(at)lemoncrushbelize(dot)com
###