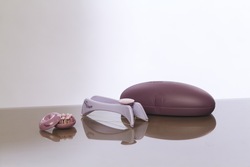 Los Angeles, CA (PRWEB) October 28, 2010
The process of hair removal is about to be revolutionized. A unique and innovative product now on the market brings the ancient art of threading - the hottest hair removal trend in salons across the country - into the palm of any women's hands in a slick, easy-to-use, hand-held device.
Slique™, by Innovative Cosmetics, is a spa-quality hair threader that simulates the hair removal method used in Asian and Middle Eastern cultures for generations. Now trendy among celebrities and in salons, threading works by looping two threads together, capturing unwanted hairs and extracting them by the roots. Until now only those skilled in this art performed threading. Unlike tweezing, shaving and waxing, which removes the top layer of skin with the hair, threading uproots unwanted hair from the follicle while minimizing skin irritation and avoiding damage.
Ossie Levi and Gal Ofra, Israeli cosmeticians, developed Slique, modeling it after the facial hair removal technique they had used in their salon for years.
"Listening to our clients, I understood the pressing need for a hair removal solution as effective as threading that would save precious time and money for women," Levi said. "Since I practice threading, I know that this method is the most effective, skin-friendly solution for hair removal. So I dedicated my experience and time to create a device that replicates threading and bring it to the public."
Six years later, Levi and Ofra are introducing this easy-to-use, innovative hair threading system to the market.
Using Slique women can thread away unwanted hair at home or on the go without a trip to the salon. Slique removes hair from:
-- Upper lip, Forehead, Chin, Sideburns, Fingers, Toes, Arms and Legs
The product is being launched in the United States through a national television advertising campaign and will appear in the October issues of Elle and People Style Watch. The product is available for purchase at http://www.SliqueNow.com and will be sold in specialty retail outlets in 2011.
Slique retails at $39.99, but is being offered at an introductory price of $29.99 plus tax, shipping and processing until October 20. The threader is sold in a kit complete with a travel case and 10 specially designed epilation threads that fit exclusively into the unit.
WHAT IS THREADING?
This centuries-old method has been used for generations as mothers passed on this unique skill to their daughters. Threading, which is not taught in cosmetology or beauty schools, is performed by rolling a thin, twisted, cotton thread over hairlines on the face, pulling the hair out at follicle level. Unlike tweezing, which removes a single hair at a time, threading removes an entire row of hairs at once, resulting in a straight line and faster hair removal. Threading removes even fine, hard-to-see hair in one quick move.
HOW SLIQUE WAS DEVELOPED
Threading requires three axis points and is performed by one person on another. Ossie Levi designed Slique to incorporate these three points in a compact, battery-free, hand-operated device that allows a woman, on her own, to achieve the same professional results of threading. "Women who regularly visit salons for threading are delighted by how simple and effective - and time saving - Slique is when they thread on their own," Levi said. "Women who have never experienced threading are amazed with Slique's hair removal results and never want to tweeze, wax or shave again."
ABOUT INNOVATIVE COSMETICS
Innovative Cosmetics Ltd., was founded by Gal Ofra and Ossie Levi, two veteran cosmeticians - daughter and mother - working to simplify life for the consumer by introducing do-it-yourself beauty products that will save time and money for the woman or man on the go.
To receive press materials and try Slique for yourself, contact: Trina Kaye – The Trina Kaye Organization 310-915-0970
###