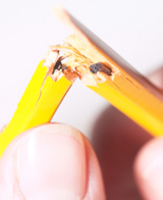 Sacramento, CA (Vocus) October 27, 2010
For-profit colleges and trade schools have been under fire lately for engaging in fraudulent marketing efforts. Recent investigations have uncovered deceptive recruiting, placement and billing practices among schools that receive billions of dollars in Federal Pell Grants and guaranteed student loans. In exchange for government grants, these schools are required by law to adequately educate students and fulfill their career placement promises. Many, however, have resorted to unscrupulous practices that have resulted in large numbers of unemployed graduates defaulting on student loans, ripping off taxpayers and inflating our nation's current unemployment statistics.
Sacramento personal injury and class action law firm, Kershaw, Cutter & Ratinoff, has already successfully represented scores of students against their so-called educators. Now, this firm is looking to take the fight a step further by pursuing legal action against for-profit schools engaging in fraud under recently improved Federal Whistleblower Statutes.
A "whistleblower" is a person, usually an employee or former employee, who publicly reports illegal activities of an organization that is cheating or defrauding the government. Although whistleblower laws were enacted in the mid-1980's to combat fraud in defense contracts, twenty years later the majority of whistleblower lawsuits were filed due to healthcare fraud. Now, over thirty years after the statutes were enacted, the new wave of fraud appears to be occurring in the educational system.
In July of this year whistleblower statutes were revisited as part of the Dodd-Frank Wall Street Reform and Consumer Protection Act, enacting new provisions for reporting fraud against the government that reward private citizens with 10 to 30 percent of the amount recovered over $1 Million. Depending on the amount recovered by the government, the percentage paid to the whistleblower can be tens or hundreds of thousands of dollars.
"If more people knew that they could help the government retrieve vast amounts of wasted taxpayer dollars, and in the process earn a substantial paycheck of their own, I think we'd see a tremendous rise in whistleblower lawsuits against these fraudulent trade schools," comments Stuart Talley, one of Kershaw, Cutter & Ratinoff's leading whistleblower attorneys.
It's important to note that the new whistleblower statutes have also improved the protections available to people who blow the whistle on their employer. One such protection is the process of filing the lawsuit "under seal." This means that the complaint is kept secret and will not be available to the public or the whistleblower's employer. Once the complaint is filed, it is then served on the United States Attorney's Office, who will then investigate and determine whether or not they will step in, or allow the whistleblower to pursue the case on his or her own. When they do intervene, their attorneys pursue the case on behalf of the government and the whistleblower will receive a percentage of what is recovered at the end of the case. If they choose not to intervene, the whistleblower has the option of dismissing the case before it is ever unsealed. When this occurs, the employer never becomes aware that a case was ever filed.
Whistleblower lawsuits are generally very successful once the government intervenes, which is why it's important to choose a law firm like Talley's that has experience working with the U.S. Attorney's Office in whistleblower lawsuits.
According to Kershaw, Cutter & Ratinoff's website, there are many types of fraudulent activity occurring at for-profit trade schools throughout the country. Some of the most common deceptive and illegal practices include:

Encouraging financial aid counselors to submit financial aid applications for Pell Grants or Federally guaranteed student loans that contain erroneous information;
Encouraging enrollment counselors to admit unqualified students by altering the results of their entrance exams, giving the students the answers to the exams, or allowing them to take the exams multiple times until a passing score is achieved;
Giving improper financial incentives to enrollment counselors to meet certain enrollment quotas;
Encouraging teachers to pass unqualified students in order to meet certain "retention quotas;"
Encouraging placement counselors to fraudulently represent that a student has been "placed" or has "waived placement" following graduation in order to alter the school's employment rate statistics;
Encouraging enrollment counselors to lie to students about prospects for employment and salary ranges following graduation.
Trade school employees who have witnessed any of the above and other questionable tactics should contact an experienced whistleblower attorney right away. In a successful whistleblower lawsuit, the first person to report fraud is the person who receives the reward.
For more information about for-profit college fraud, Talley's firm has set up a Facebook page titled, 'Fight Trade School Scams,' and a corresponding personal injury resource blog that offers advice on how to recognize deceptive marketing practices of for-profit colleges.
Kershaw, Cutter & Ratinoff have demonstrated their dedication to protecting the legal rights of consumers, as well as their ability to devote substantial resources through trials involving large corporations. Their Qui Tam whistleblower lawyers and class action attorneys have generated hundreds of millions of dollars in lawsuit recoveries for the government, their clients and the classes they have represented.
If you would like more information on this topic, or to schedule an interview with Stuart Talley, please call Taryn Smith at 916.448.9800 or 888.285.3333.
###