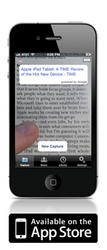 every line of text in every printed document is unique
Vashon, WA (PRWEB) October 27, 2010
Exbiblio has announced the release of PhoneQi for iPhone, the company's first publicly available software for adding document-aware functionality to mobile devices.
PhoneQi allows users to clip, save and share any text from newspapers, magazines, books, even text displayed on computer screens. Utilizing the iPhone's camera and in-phone OCR to capture a short sequence of rendered text, Exbiblio's Qi® technology will search through Google's index to find a printed document's digital counterpart. Using quoted-phrase searches, only 6 words are needed, on average, to identify a document among the billions of documents indexed by Google. In effect, every line of text in every printed document is unique / a barcode / a URL. This enables Exbiblio to deliver rich digital interactivity to the printed documents we encounter in our day-to-day activities. The PhoneQi app is just a small, first piece of an ecosystem that connects the physical, print world to the digital world.
Once the online version of a document has been identified, users are provided with a link to the digital version for opening in a web browser or sharing with others via email or Twitter. An email of the capture is also sent to a user-provided address for future reference. Additionally, PhoneQi will store up to 20 recent captures in its Life Library on your phone for quick reference.
Exbiblio's PhoneQi for iPhone is now available as a free download at the Apple App Store. PhoneQi requires an iPhone4 or 3GS running iOS 4.1.
###