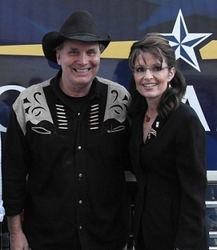 "I am on America's side", explains Garrett, "this is not about Republicans or Democrats, it's about what's best for our country
Nashville, TN (PRWEB) October 27, 2010
When country music artist Pat Garrett received a request from a member of the Tea Party to write a song to voice their frustration with business as usual in Washington, Garrett wrote and recorded "The Tea Party Song", which has proven to be a hit with audiences.
"I am on America's side," explains Garrett. "This is not about Republicans or Democrats, it's about what's best for our country, and I do agree with the Tea Party's patriotic views, of fiscal responsibility, that spending cuts, not increased taxation should be used to balance the budget, and in constitutionally limited government."
Performing at various venues with his five piece country band, Garrett can see and hear, the fist pumping, cheers and smiles on the faces of his fans as he begins to play the song. "My audience is the most important part of my music" Garrett said. "They deserve to be heard and I am proud to give them a voice in my music."
This isn't Garrett's first foray into writing about the political climate of America. He wrote the tongue-in-cheek "Monica Lewinsky Polka" (1995), "If You Love America (2001), and the "The Saddam Stomp" (2003). In 2007, he wrote "Moose Shootin' Mama" about former Governor Sarah Palin, from his most recent CD "CountryVersial Tunes". The song was quickly adopted by the Republican VP campaign. Garrett found himself on the campaign trail, performing at McCain/Palin rallies, and "Moose Shootin Mama" made the Billboard National Hot 100 country chart.
Thomas Slovik of the Berks County PA local Tea Party, has been playing Pat's song before every meeting, he says the upbeat song is fantastic and captures the mood and feeling of the tea party members.
Garrett joins a growing list of musicians that have expressed support of some of the basic tenants of the Tea Party, including Velvet Underground drummer Maureen (Moe) Tucker, rocker Ted Nugent, country music legend Charlie Daniels, and Aaron Lewis of Staind, who recently aired his views on the Howard Stern show.
Garrett's "Tea Party Song" was released nationally October 25, 2010 to country radio stations via CDX Music Nashville, Volume # 511. The song is available for download through iTunes and as a CD single from http://www.patgarrett.com.
###