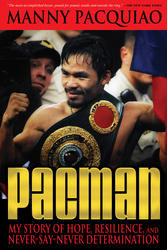 Pacman: My Story of Hope, Resilience, and Never-Say-Never Determination
Los Angeles, CA (PRWEB) October 28, 2010
Dunham Books is set to release "Pacman: My Story of Hope, Resilience, and Never-Say-Never Determination" penned by the WBO World Welterweight Champion (Super Champion) Manny "Pacman" Pacquiao who has been named "Fighter of the Decade" by the Boxing Writers Association of America and rated the number one pound-for-pound best boxer in the world by Sports Illustrated, ESPN, The Ring, NBC Sports and Yahoo! Sports.
"Pacman" (Dunham Books, November 16, 2010) is being widely praised as one of the most definitive and comprehensive biographies ever on the iconic boxing legend who, until now, has remained relatively quiet regarding his meteoric rise to international superstardom both in and outside the ring.
"Manny is one of the best boxers competing today. Not only is he a very talented athlete, but he is also a very caring and humble person," says NBA All-Star Champion and friend Ron Artest. "He is a man of unflinching integrity and someone I am proud to call a good friend. Everyone should read his inspiring story."
Written in his own words, "Pacman" isn't just about Pacquiao's triumphant boxing career but a miracle story of a young boy raised in an impoverished village in the Philippines who literally began his life on the ropes. The book discloses how, in his pre-boxing life, Pacquiao provided for his family of five by selling practically anything and everything on the streets just to help them survive. The hard work, determination and sheer grit that would characterize Pacquiao as a boxer showed through in a big way during these early years.
"Pacman" recounts the story of a humble man who dreamed of being a priest yet lacked the economic resources to pursue the same. Pacquiao found another way to move heaven and earth--boxing. It would become the only way for him to survive.
"Pound for pound, Manny is the best boxer in the world, but even more important than holding that distinction, Manny has connected with the people of his home country, the Philippines, to the point where he is almost like a god," says former heavyweight boxer and HBO commentator Lennox Lewis.
"Pacman" not only reveals the roots and early suffering of this legendary fighter, but his transition into life as a sports superstar who gives back to the people and the country that fed and supported him through so many years of hardship. "Pacman" shares Pacquiao's deep desire to give of himself to his fellow Filipinos by serving as a congressman in the House of Representatives, becoming the first active professional boxer to become an elected public official.
Considered one of the most influential people in the Philippines today and, by some standards, one of the most influential boxers in the world, Pacquiao's rags-to-riches story will inspire and motivate readers to embody the legendary fighter's "never-say-never" attitude about life. It proves that with hope and resilience everyone can achieve their goal, even a little boy who sold ice water on the streets of the Philippines.
"My sole intent in publishing "Pacman" was to show a side of Manny Pacquiao that had never been seen, never been heard, and never been told," says publisher David Dunham. "It's the story of a humble man with a heart of a lion who rose from the depths of poverty to become the greatest boxer of our generation and an icon for a nation. Much like the man, this story is larger than life."
"Pacman" will be released on November 16 exclusively from Dunham Books.
About David Dunham
David Dunham is a veteran of book publishing with more than three decades of experience and more than two dozen New York Times' bestsellers to his credit. In 2007, he formed The Dunham Group, a publishing and entertainment firm, representing authors, actors, artists and entrepreneurs to help build their brands through book publishing, television, film, licensing, product development and corporate endorsements.
"Pacman"
Hardcover: 240 pages
Publisher: Dunham Books
Release: November 16, 2010
ISBN-10: 1890434817 / ISBN-13: 978-1-4276-4768-9
Media for Dunham Books:
Liam Collopy
Executive Vice President
LCO - Levine Communications Office Inc.
1180 S. Beverly Dr. Third Floor
Los Angeles, CA 90035
E: lcollopy(at)LCOonline(dot)com
T: 310.300.0950 x 232
(http://www.LCOonline.com)
Gia Ghadimian
Account Executive
LCO - Levine Communications Office Inc.
E. gia(at)LCOonline(dot)com
T. 310.300.0950 x233
# # #