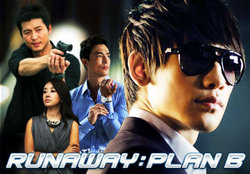 "DramaFever is excited to bring Rain back to his US fans in this sexy, stylish new show, which is a cross between '24' and a modern 'Indiana Jones' treasure hunt adventure" said Suk Park, co-founder of DramaFever.com.
New York, NY (PRWEB) October 28, 2010
DramaFever releases the U.S. digital premiere of a brand news action-suspense thriller television series direct from Korea, starring internationally renown actor and pop star, Rain. The sexy, stylish new series "RUNAWAY: PLAN B," follows the adventures of a handsome James Bond-esque private investigator, played by Rain. He is accompanied by an international cast of characters in a global chase for a fortune in stolen gold. The series marks the first TV series by the critically-acclaimed actor and his first major project since his starring turn in the 2009 worldwide blockbuster hit "Ninja Assassin," which earned Rain the MTV Movie Award for Biggest Badass and further US notoriety as Stephen Colbert's proclaimed arch nemesis.
Streaming to American audiences in high-quality with English subtitles, RUNAWAY: PLAN B is now available for free on DramaFever.com, the leading video website for mainstream audiences interested in direct-from-Asia entertainment. DramaFever.com is the only web site where Americans can legally view the brand new series for free which debuted the first episodes in S. Korea to hit ratings recently. Viewers will be able to catch new episodes soon after they air on South Korea's leading television network KBS. DramaFever will soon also release RUNAWAY: PLAN B episodes to millions of viewers on its network page on partner site Hulu.com.
Direct Link: http://www.dramafever.com/drama/792/Runaway:_Plan_B/
"DramaFever is excited to bring Rain back to his US fans in this sexy, stylish new show, which is a cross between '24' and a modern 'Indiana Jones' treasure hunt adventure" said Suk Park, co-founder of DramaFever.com. "Based on the buzz from our recent Comic Con 2010 panel, people are excited about the new content coming direct from Asia, which online viewing is making it easier to find and discover."
Viewers can watch RUNAWAY: PLAN B and hundreds of other shows online for free on DramaFever.com or purchase a premium subscription at $4.99 per month for uninterrupted advertising-free programming, access to exclusive content and other advanced features. Future plans will make it more convenient to watch DramaFever content across mobile and Web TV platforms. As of August 2010, DramaFever retains the online distribution rights to the largest digital library of Korean entertainment in North America, including suspense thrillers, historical dramas, romantic comedies, music variety shows and documentaries. The site will soon also carry extensive primetime TV shows from Japan, the Philippines, and China.
SYNOPSIS:
RUNAWAY: PLAN B follows an international cast on a frantic chase around the world for a fortune in gold stolen 60 years ago during the Korean War. Rain stars as Ji Woo, Asia's top private investigator, who is approached by a mysterious woman named Jin Yi (played by Lee Na Young). Her unknown motives are only made more complicated by the romance that grows between them. Uehara Takako of Japan's most successful selling J-pop girl group Speed, plays Kieko, a singer who becomes romantically interested in Ji Woo. Long time Japanese actor Takenaka Naoto plays her father Hiroki, who's outward appearance as a businessman hides that he is if in fact a powerful yakuza. American actor Daniel Henney ("X-Men Origins: Wolverine") stars as Kai, whose past with Jin Yi may unravel it all.
CAST BIOS
RAIN
Critically acclaimed the world over, South Korea's most popular movie star and pop singer Rain has found millions of screaming fans in the United States. As "Taejo Togokahn" in the blockbuster movie "Speed Racer", Rain caught the attention of the Wachowski Brothers ("Matrix Trilogy"), who cast Rain in the lead role for "Ninja Assassin," directed by James McTeigue ("V for Vendetta"). One of America's newest pop icons, Rain ranked among People Magazine's World's Most Beautiful People and Time Magazine's 100 Most Influential People Who Shape Our World in 2009. He popularity spread further when Stephen Colbert repeatedly challenged Rain to appear on Comedy Central's "Colbert Report" for a dance-off. RUNAWAY: PLAN B marks Rain's return to Korean primetime, joined by an international cast.
DANIEL HENNEY
American born Daniel Henney became a household name in South Korean after his role in the hit TV series "My Lovely Sam Soon". His American work includes the role of Agent Zero in the feature film "X-Men Origins: Wolverine" and Dr. David Lee in the CBS television drama "Three Rivers". Daniel Henney returns to South Korea television for RUNAWAY: PLAN B as Kai, a romantic competitor opposite Rain's Ji Woo.
LEE NA YOUNG
Lee Na Young is one of South Korea's most popular up-and-coming actresses. She first made a name for herself as the star in the critically acclaimed mini-series "Ruler of Your Own World". Her performance in the feature film "Someone Special" earned her Best Actress at the 25th Blue Dragon Film Awards. She plays Jin Yi, a mysterious woman and romantic interest of Rain in the new actions series RUNAWAY: PLAN B.
UEHARA TAKAO
Uehara Takako is an actress, solo singer and member of the Japanese pop group Speed, with sales of over 20 million singles and albums within four years. Uehara has acted in over a dozen Japanese TV series. RUNAWAY: PLAN B marks her first role in a South Korean TV series.
TAKENAKA NAOTO
Naoto Takenaka is a popular Japanese actor, comedian, singer, and director. The past 10 years, Naoto has acted in two dozen TV series, and won the Japanese Academy Prize for Best Supporting Actor three times.
ABOUT DRAMAFEVER
DramaFever is the largest online provider of Korean TV dramas and a leading distributor of Asian entertainment in North America. The company licenses content from major Asian media companies and distribute them in high quality with English subtitles via DramaFever.com as well as syndication partners such as hulu.com. DramaFever's content partners include KBS, MBC, SBS, FUNimation, Asahi TV, ABS-CBN, Joyplex, Group Eight, ISplus, JS Pictures, and many others. To learn more, visit http://www.DramaFever.com.
###