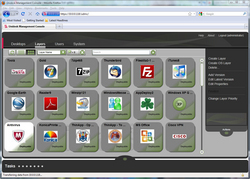 Unidesk's innovative platform greatly simplifies virtual desktop infrastructure management and deployment for both VMware View and Citrix XenDesktop.
Marlborough, MA (PRWEB) October 28, 2010
Enterprise technology publication eWEEK has published an in-depth review of Virtual Desktop Infrastructure(VDI) innovator Unidesk by award-winning technology journalist Frank J. Ohlhorst, who writes that Unidesk's innovative platform greatly simplifies Virtual Desktop Infrastructure (VDI) management and deployment, bringing more success to both VMware View and Citrix XenDesktop.
The review states that Unidesk's ability to solve the major problems associated with VDI while improving management capabilities and the end-user experience makes Unidesk a useful product for administrators dealing with balky VDI implementations or looking to regain control of personalized virtual desktops.
Unidesk is becoming the key management platform for VDI, earning high marks in organizations that must deliver a customizable desktop experience to end users without requiring enormous storage costs or increasing provisioning and patching complexity. These organizations need an effortless way to manage Microsoft Windows and the applications that run on Windows, especially custom-built applications, VMware ThinApps, and applications that are difficult to virtualize. Unidesk is unique in addressing all of these challenges in a single VDI management product.
"Version 1.0 of Unidesk's self-named VDI management tool enables organizations deploying virtual desktop infrastructure to take advantage of the centralized management perks of VDI without sacrificing the individual desktop flexibility that users have come to expect from traditional, locally installed operating systems," the review states.
"With Unidesk 1.0, administrators can dynamically provision virtual desktops upon user request using a layering methodology to build a virtual desktop that incorporates an operating system, applications and user personalization settings. The personalization settings allow users to not only preserve their settings but also install local applications, store .pst files and keep registry changes.
"In the past, typical VDI deployments forced users to share a common OS image, eliminating the ability to personalize their desktops. To offer personalization, administrators would have to maintain every virtual machine separately, requiring massive amounts of storage. Worse yet, each of those virtual desktops would have to be managed separately, meaning that upgrades, patches and other changes would have to be applied to hundreds of different desktops, eliminating one of the primary advantages of VDI—simplified OS maintenance.
"By layering the OS and application levels, Unidesk makes it so only master images of the OS and applications need to be stored, which significantly reduces storage requirements and allows administrators to patch or upgrade hundreds of virtual PCs by just working with those master images. The personalization layer for each user is stored in a relatively small file, which further reduces storage needs. The net result is a VDI implementation that requires a fraction of the storage space used by a traditional VDI installation that offers personalization. Unidesk claims that organizations will see a reduction in storage needs exceeding 70 percent in most cases."
Unidesk end users will not see a difference in running a virtual desktop infrastructure. "Once Unidesk is deployed most users will not even realize they are running a virtual desktop infrastructure — the Unidesk-delivered desktop looks and feels the same as a local physical desktop. The only difference is that users will find that their problems can be resolved more quickly and administrators will find their desktop infrastructure easier to manage."
The full eWEEK review is available at http://www.eweek.com/c/a/Virtualization/Unidesk-Brings-VDI-Success-343394/
About Unidesk
Unidesk (http://www.unidesk.com) provides the virtual desktop management software platform that enterprises of all sizes require for desktop virtualization success. The company's patent-pending desktop layering technology extends virtual desktop solutions from VMware, Citrix, and other vendors to sustain personalization for workers who need a customizable user experience, while empowering IT with efficient management of operating system and application updates. Unidesk customers benefit from increased worker productivity and reduced IT operations and data center storage costs. Unidesk is a privately-held company with headquarters in Marlborough, Mass.
Unidesk® is a registered trademark and Composite Virtualization and CacheCloud are trademarks of Unidesk Corporation. All other trademarks and registered trademarks are property of their respective owners.
###