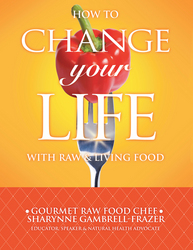 Pittsburgh, PA (Vocus) October 28, 2010
Frazer lost her mother to a kidney disease that was brought on by years of prescription drug use for high blood pressure. Suffering from high blood pressure, high cholesterol, crippling arthritis of the hands, and lower back pain, Chef Sharynne decided to seek a more holistic approach to her treatment. Her book has not only made a tremendous difference in her own health since adopting the raw and living food lifestyle but has also helped Frazer's eighty-five-year-old father. Just a few minor changes in his lifestyle have given him dramatic health improvements.
An author, speaker, natural health advocate, and instructor has earned the reputation for delivering sharp and definitive up-to-the-minute lifestyle change information. Both passionate and energetic about her work, Sharynne has been able to help thousands of people learn how to make small changes in lifestyle behavior that will add up to big changes in our overall health and wellness. Enjoy better health, more energy, and greater self-esteem. With more than thirty years in the medical field, she brings a refreshing approach to change that one can live with for life!
TESTIMONIALS
"…a revolutionary book."
"I have personally followed the phenomenal growth of the live/raw food movement in Nevada and Hawaii through our magazines. Chef Sharynne Frazer is considered a leader in the field and brings her considerable expertise to this book. Readers will learn the Health benefits of a Living Food lifestyle, how to shop for ingredients and useful kitchen items and recipes with variations to keep the menu fresh and tasty. This is a revolutionary book—Raw and Living Foods is the lifestyle of the future."
Barbara Holm, Editor — Nevada Wellness Directory, Hawaii Wellness Director
How to Change Your Life with Raw and Living Food is an 144-page casebound book with a retail price of $35.00. The ISBN is 978-1-4349-9941-2. It was published by RoseDog Books of Pittsburgh, Pennsylvania. For more information, or to request a review copy, please go to our virtual pressroom at http://www.rosedog.com/pressroom or our online bookstore at http://www.rosedogbookstore.com.
###