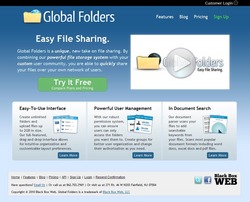 "Creating folders and giving people access was easy" - Donna Groh, Engineering Dynamics
Fairfield, NJ (PRWEB) October 29, 2010
Working with distributed teams isn't easy. Businesses have to make sure their teams are constantly connected to the most recent data and information.
Whether it's marketing information, internal forms, technical data or graphics, making sure that employees and vendors are using the correct data can save countless hours and reduce workloads.
New Business file sharing systems like GlobalFolders.com make that task easier by allowing companies to manage data in folders that can easily be upload to and managed with permissions, for little to no cost.
Since each user has their own login and password, they don't need to worry about being connected to a VPN or internal network to access the files they need. And administrators responsible for maintaining that central data can easily login and update files as needed.
More complex services such as Box.net offer additional tools like online collaboration, allowing companies to edit documents online in a central repository, however, costs increase as more functionality and users are added.
For companies like Engineering Dynamics, GlobalFolders.com provides the right mix of functionality and cost.
"Creating folders and giving people access was easy," according to Donna Groh at Engineering Dynamics, who uses the system to allow employees to upload and download forms from on-site audits of electrical equipment.
"Other systems we reviewed let me share a specific file or folder, but the group setup in Global Folders allows us to easily assign multiple people to a group, and the group controls the permissions, which makes it more flexible and easier to maintain once it's setup," says Groh.
With an increasing number of companies using freelancers and remote workers, tools to help them manage workflow and control costs are invaluable.
About GlobalFolders.com
Started in 2008 by Michael and Stephen Walker, GlobalFolders.com was designed based on the Walker brothers' experience with hundreds of clients in transferring files for various marketing projects. It solves the issues with file size limits in emails, security issues with email, and education on how to use FTP, keeping clients happier and making workflows much smoother.
About Engineering Dynamics
Engineering Dynamics works with companies worldwide to improve the quality of electrical power, eliminate power disturbances and provide independence from the utility power supply through applications of our state-of-the-art system designs and service.
# # #