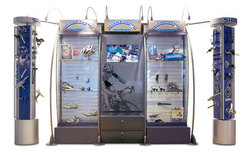 Main reason for choosing PADS is the ability to safely distribute any content through the Internet
(PRWEB) October 28, 2010
Shimano, international manufacturer of high-tech bicycle parts and accessories, has recently provided its 200th dealer location with a functional and advanced digital signage solution for targeted, digital distribution of multimedia content. The chosen digital signage software is PADS Professional by Net Display Systems (NDS).
To support their official dealers Shimano provides instant, customized and attractive visualized information at local level. This content enables the dealers to distinguish themselves from other dealers using traditional in-store advertising. All content on the displays is synchronized from the central server at Shimano headquarters in the Netherlands to each local dealer all over Europe.
NDS partner BIS BV has been responsible for the implementation of Shimano's digital signage solution since 2006. Main reason for choosing PADS is the ability to safely distribute any content through the Internet.
With only one mouse click Shimano makes sure each dealer can display content relevant for any specific location at any moment of the day. Special offers, product news, movies and publications concerning bicycle racing (e.g. Tour de France) are a few examples of content Shimano distributes and displays with PADS Professional.
The solution is such a success that Shimano already made plans to roll-out PADS to 100 to 300 other dealers in Europe in the near future.
###