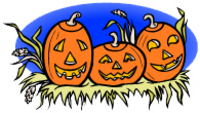 Halloween is a fun night for families, but it can be especially dangerous for children in costumes
Lincoln, RI (Vocus) October 27, 2010
Trick-or-treaters are going to fill the streets this weekend, so Amica Insurance reminds everyone to take extra care to keep children safe this Halloween.
"Halloween is a fun night for families, but it can be especially dangerous for children in costumes," said Lisa Melton, an assistant vice president with Amica Insurance. "Motorists and homeowners should use caution to make sure children are safe."
Amica offers the following tips:

Discuss Halloween safety in advance with your children.
Choose a costume that fits properly. Loose-fitting clothing can cause a child to trip and fall.
Make sure your child's costume has reflectors and is flame-resistant.
Give your child a flashlight to carry.
Make sure a responsible adult accompanies your child while trick-or-treating.
"Besides keeping your child safe, it is also important to be a safe driver on Halloween," Melton said. "The roads will be filled with children and families, so please be careful if you are driving while children are trick-or-treating."
Most children go trick-or-treating between 4 and 8 p.m., so be extra vigilant during that time period – especially in residential areas, where children will be darting back and forth across the streets. Also take care when passing parked cars, as children may be getting in or out of the vehicles.
It is also important to keep your home safe for trick-or-treaters, Melton noted. Remember to:

Keep doors, stairs and entryways clear of excess decorations.
Remove any obstacles that could cause people to trip.
Use candles with caution.
Keep decorations away from all heating sources.
"Being prepared and cautious on Halloween will result in an enjoyable and safe Halloween for everyone," Melton said.
About Amica Mutual Insurance
Amica Mutual Insurance Company, the nation's oldest mutual insurer of automobiles, was founded in 1907. The company, with corporate headquarters in Lincoln, RI, is a national writer of automobile, homeowners, marine and personal umbrella liability insurance. Life coverage is available through Amica Life Insurance Company, a wholly owned subsidiary. Amica employs more than 3,200 people in 40 offices across the country.
Contact: Vince Burks, Corporate Communications, 50 Amica Way,
Lincoln, RI 02865-1155, 1-800-652-6422, ext. 24563.
Website: Amica.com
Twitter: Amica Insurance
Facebook: Amica Mutual Insurance Co.
###