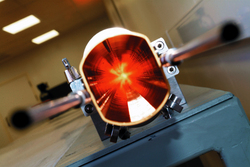 (PRWeb UK) October 27, 2010
At present there is no greater interest within the world's scientific and technical communities than that generated by the multi billion dollar particle accelerator at CERN in Switzerland.
The Large Hadron Collider (LHC) is the world's largest and highest energy particle accelerator, which promises to re-create conditions at the birth of the universe. It is expected to address some of the most fundamental questions of physics, advancing our understanding of the deepest laws of nature.
Three companies in the UK have combined their technologies, skills and manufacturing expertise to produce some of the key components which comprise the LHC. Caparo Accles and Pollock weld one of the parts, using a JK Laser.
The beam screen tubes positioned at the core of the collider, are welded in a purpose built, atmosphere and temperature controlled facility in Oldbury, UK.
The 6 parts that make up the beam screen tubes are precisely welded together by the manufacturers, using a pulsed YAG laser supplied by JK Lasers, based in Rugby. The highly controllable and accurate laser is capable of creating repeatable, strong hermetic joints. It also produces minimal heat input, causing no distortion to the part.
To increase productivity, Caparo Accles and Pollock utilise the energy sharing capability of the laser, whereby two welding heads mounted on ABB robots can work from a single laser source and weld either side of the tube simultaneously.
The automated process consists of the laser feeding two ABB robotic welding stations that are moved relative to a 17 metre static tube on a highly accurate track system, the integration of which was performed by Garrandale Ltd, in Derby, UK.
For further information about the application,please visit http://www.caparoacclesandpollock.com/
For further information about laser processing, please visit http://www.gsiglasers.com
###