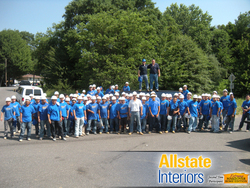 Of course, it is always a wonderful experience when we can make a difference in the lives of a deserving family.
Monroe, NY (Vocus) October 28, 2010
When it comes to finding the right organizations for ABC's "Extreme Makeover: Home Edition," they expect the best. The producers needed the best drywall subcontractor in the Northeast. When they called Fred Soward, founder of Monroe-based Allstate Interiors Inc., they knew they found their match.
Founded in 1999 by New York contractor Fred Soward, Allstate Interiors Inc. has grown to become one of the Northeast region's largest framing, drywall, and flooring underlayment professional subcontractors. Allstate Interiors Inc. has grown tremendously through its excellence in service and reputation and now serves most of the Northeast ranging from Vermont through New York and down through Virginia. Based on the company's history, reputation, and previous work on "Extreme Makeover", there is no question as to why the producers decided to call Allstate Interiors Inc. again on this strict deadline job.
When Fred received the call for help, his response was "Of course, it is always a wonderful experience when we can make a difference in the lives of a deserving family." In this case, the deserving family was the Lutz Family. Grace and John Lutz dedicated their lives to 18 kids they adopted, seven of which had Down syndrome. After unfortunate tragedies, six of the Down syndrome siblings were left alone. With no care, their sister Kathleen and brother John Jr. stepped up to care for their siblings. However, the crumbling condition of their 40-year-old home had become a concern for the family. The house was unsafe. There were electrical problems, leaking pipes throughout the home, mold developing and rotten wood. The town locals were very supportive and did all they could to help. Unfortunately, the home was still unsafe and not getting any better. The Lutz family needed a safe and permanent home, as the siblings would spend the rest of their lives there.
On June 24th 2010, Fred Soward and Martin Legenos showed up with eighty of their employees to help get the job done and to help this dream happen for the Lutz family. Allstate Interiors Inc. had a 12 hour window to do the wall insulation, sheetrock, taping, and finishing. Despite the scorching 100 degree temperatures, the team finished in ten hours. Workers were passing out due to heat exhaustion including Steve Barker, an Allstate Interiors foremen. At one point, an eighty-man assembly line was formed to carry over 300 sheets of sheetrock from one building to the jobsite about a block away which was no easy task, especially with the heat. The Allstate Interiors team dedicated their time and extreme effort on this project to help the Lutz Family. "With the heat and everything else we got done, this was definitely the hardest work we've done," Soward said.
"Going back on 'Extreme Makeover: Home Edition' for the second time was an honor. We are always ready to help someone in need, and this is a very special family with an incredible story," said Fred.
Fred Soward and his wife Gloria, vice president of Allstate Interiors Inc., participate in many charitable organizations, not only "Extreme Makeover, Home Edition", but they help build local churches, contribute weekly to food pantries, and also work for many worthy foundations in need of assistance.
###