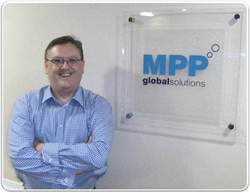 Kevin will help reinforce MPP's position as an innovative eCommerce provider for the biggest players in the media sector
(PRWEB) October 28, 2010
MPP Global Solutions, the leading provider of advanced eCommerce solutions, has strengthened its management team to help capitalise on the exploding digital content monetisation markets in both the UK and internationally.
Kevin Cochrane joins the company as Commercial Director and will lead MPP in developing digital opportunities across internet, mobile and connected-TV platforms.
With a background in dealing with delivering broadcast, VOD and IPTV content and solutions to blue chip companies such as, the BBC, ITV, Sky and Direct TV, Kevin will play a key role in providing the media industry with eCommerce solutions to monetise its content.
Paul Johnson, CEO at MPP, said: "Kevin is the perfect choice to help drive MPP's strategic initiatives and capitalise on the rapid growth in opportunities from companies with digital content monetisation initiatives.
"Kevin's formidable experience across the whole media sector and unique understanding of converged media will help bring an unparalleled vision of how MPP can develop and grow its eCommerce portfolio."
MPP already provides advanced eCommerce solutions for the TV, film, radio, ISP, telco, newspaper and publishing industries and counts Sky, News International and Sony amongst its clients.
MPP's range of advanced eCommerce solutions includes integrated payment platforms, micropayments, software development and tailored support systems to make it easier do business by web, mobile or connected-TV around the globe, 24/7.
Kevin joins MPP from Siemens UK, where he was Head of Convergent Media, and responsible for marketing the skills of a 40+ strong team.
In his new role, Kevin will help reinforce MPP's position as an innovative eCommerce provider for the biggest players in the media sector.
Kevin said: "These are exciting times for the eCommerce industry and I am thrilled to be joining such a forward thinking company as MPP.
"The potential for the growth in monetising digital content across all digital platforms is enormous and I am confident MPP is in a great position to capitalise on this largely untapped market."
To find out more about MPP see http://www.mppglobal.com or follow on twitter.com/mppglobal
--Ends--
For further information, please contact:
Philip Joy at MPP Global Solutions
0844 873 1418
Notes for Editors
About MPP
http://www.mppglobal.com

The world's biggest TV, film, radio, ISP, telco, newspaper and publishing companies trust MPP to deliver their eCommerce solutions
We're sector specialists and that means we provide customers with an even greater level of eCommerce expertise
Sky, News International, Sony and Universal Music all benefit from our eCommerce expertise – whether it's eCommerce software, eCommerce development or eCommerce payment systems
Visit http://www.mppglobal.com to see how we can build fast, effective and fully integrated eCommerce payment systems for your company regardless of whether you want to reach your customers on the web, on the phone or via their TV.
###