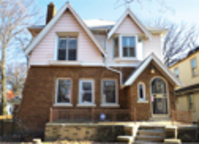 (PRWeb UK) October 29, 2010
Large numbers of UK investors have recently targeted Detroit as the key location to invest in the USA. Traditionally British buyers have favoured holiday destinations such as Florida, Las Vegas and California where they have usually spent time themselves. Detroit's appeal however seems to be altogether different, offering none of the glamour usually associated with property overseas but very serious returns to investors looking to capitalise in the wake of the US property crash.
The plight of Detroit during the last few years has been well documented, namely the challenges faced by large car manufactures based in the region during the last few years. In the eyes of the media Detroit is certainly covered by a black cloud. What is less recognised or reported on in anything other than the financial press is the current investment and new business currently happening in Detroit.
The fact that big business and venture capitalists alike are targeting this area highlights that Detroit isn't a 'one trick pony'. Technology and renewable energy are both key to Detroit's future. This is evident in the recent move by Xtreme Power and Clairvoyant Energy to fund a $1.3bn redevelopment of the old Ford Site in Wixom and creating 3,250 jobs in the renewable energy sector. In addition Detroit's Health IT sector has been boosted by the recent investment by Vanguard Health Systems of $850m into the Detroit Medical Centre project, again creating thousands of jobs for the region.
Detroit's car manufacturers have also very much overcome the challenges of the past. Ford's $2.1bn first quarter profit wall double Wall Street forecasts and Ford are on track for their most profitable year since 2000. General Motors is profitable for the first time in six years and progressing with an IPO later in the year.
These are just a few of the reason why overseas investors not currently exposed to the US market are currently buying residential Detroit property in volume. According to the Michigan Association of Realtors property prices in Detroit between June 2009 and June 2010 rose by an incredible 37.62%. With recorded sales growth like this it is perhaps easy to see why Detroit is now ranked at number 1 in the Housing Predictors list of top US Real Estate Markets for growth in 2010 and is forecast to experience a 21.5% appreciation in home prices for the year, as prices rebound from historic lows.
With mortgage products remaining incredibly difficult to obtain in this market, cash remains king and offers those with capital tremendous buying power. UK investors can currently secure a quality 3 bedroom brick built detached house for around £27,500 from Cicada Investments Foreclosures inclusive of a 5 year rental guarantee through their US letting partners.
The lack of credit in this market for buyers is also the key reason why lettings are so strong. Properties in Detroit are let by working blue collar families, a skilled workforce in requirement of year round, long term rental accommodation. This is a very different scenario to locations such as Las Vegas or Florida, which are very much reliant upon tourist visitors and the work that they create.
With 3 bedroom properties in the Western suburbs renting for between $750 and $850 per month an annual yield of circa 22% can be achieved through local agents. The 5 year rental guarantee that Cicada Investment's partners offer pays a yield of 13% per annum for a fully comprehensive service for those investors seeking an armchair investment.
For more information about the Detroit property market please visit Cicada Investments Foreclosures or call 020 7481 6875
# # #