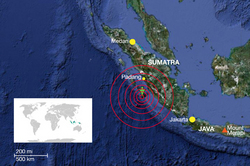 You never know when a disaster will strike and they can happen at any time
Lakewood Ranch, FL (Vocus) October 27, 2010
A ShelterBox Response Team (SRT) is heading to Indonesia after a deadly tsunami struck the country's coast to provide emergency shelter and life-saving equipment in the aftermath of an earthquake and subsequent tsunami.
The tsunami has already claimed more than 100 lives and it is feared scores of coastal villages could have been wiped off the map.
The response team will be led by Mike Greenslade and will be working alongside ShelterBox's Indonesian affiliate to assess the affected area.
The tsunami was triggered by a 7.7 magnitude earthquake that struck 20 kilometers beneath the ocean floor off the island of Sumatra. Reports say that the massive wave swept up to 600 meters inland in some places.
"You never know when a disaster will strike and they can happen at any time," said Veronica Brandon Miller, executive director for ShelterBox USA. "This year alone, we've responded to 21 disasters and are currently delivering aid in five other countries to families in their greatest time of need."
The situation in Indonesia is turning into a double disaster as thousands of people are evacuated from the area surrounding the Mt Merapi volcano in central Java.
In October 2009, ShelterBox delivered emergency shelter for more than 6,000 people in Sumatra after a devastating earthquake struck the island.
Since 2000, the international disaster relief organization has provided shelter, warmth and dignity following more than 140 disasters in more than 70 countries. ShelterBox instantly responds to earthquake, volcano, flood, hurricane, cyclone, tsunami or conflict by delivering boxes of aid.
The organization's largest distributions of aid have been in Pakistan and Haiti. ShelterBox has committed emergency shelter for up to 147,590 people in Pakistan in response to devastating floods. In Haiti, ShelterBox provided emergency shelter for more than 250,000 residents displaced by the January 2010 earthquake. ShelterBox also is currently delivering life-saving aid in Niger, West Africa.
The iconic green ShelterBox contains a tent to provide shelter for up to 10 family members, tool kit, cook stove, water purification equipment, children's activities, and other essential equipment tailored to the climate and conditions of the destination. Highly trained ShelterBox Response Teams distribute boxes on the ground, working closely with local organizations, international aid agencies and Rotary clubs worldwide.
"We are asking for donations to help us have aid ready for the inevitable next disaster," said Miller.
Individual tax-deductible donations to ShelterBox USA can be made at http://www.shelterboxusa.org or by mailing a check to 8374 Market St. #203, Lakewood Ranch, FL 34202. For information or to make a contribution by phone, please call 941-907-6036.
Editor: High-resolution print images and broadcast quality video are available. Please contact ShelterBox for access to images.
###