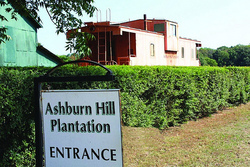 Ashburn Hill Plantation represents a unique and historically significant auction offering, states Ben McCollum, Broker at The Wright Group.
Moultrie, GA (PRWEB) October 28, 2010
The historic Ashburn Hill Plantation located outside of Moultrie will be sold at absolute auction with no reserve and no minimum on December 4, 2010 at 11:00AM. The Wright Group, a real estate brokerage and auction company located in Thomasville, Georgia, will be handling the sale of this unique property for the estate of Frank R. Pidcock, IV. The property consists of 473 +/- acres of mature stands of longleaf pine, prime irrigated and dry land agricultural fields, as well as the historic hunting lodge and the original 1903 Moultrie railroad depot. The real estate is being offered in 24 tracts ranging from 5 to 123 acres, high bidders choice. In addition to the real estate, all associated personal items including the private Pullman railcar, railroad memorabilia, artwork, taxidermy, antiques, quail wagon with mule team, farm equipment, and pivots will all be sold.
Ashburn Hill Plantation has served as a commercial quail hunting operation for over 40 years and has been in the same family since 1880. The Pidcock family was the original founder of the Georgia Northern Railway and instrumental to the economic growth of Moultrie and the surrounding areas. "We are very excited and honored to be handling the sale of this extraordinary and iconic property that is filled with so much history," said Ben McCollum, broker for The Wright Group. "This historic plantation offers a tremendous opportunity for hunting, agriculture, and premier home sites. In addition, the old Moultrie railroad depot, railroad memorabilia, taxidermy, private railcar, antiques, and wildlife prints truly make this a very unique sale and a great opportunity for the public."
For more information on the upcoming auction, individuals may contact The Wright Group at 229-226-2564 or visit the company's Web site at http://www.wrightbroker.com.
The Wright Group, based in Thomasville, GA, specializes in the sale of high end, unique properties. The company, through auctions and conventional sales, has successfully assisted plantation owners, institutional timberland companies, investors, and banks in the sale and acquisition of specialty properties throughout Georgia and Florida.
C.H. Whitney, Auctioneer, GAL #944
# # #