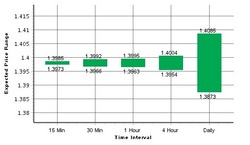 Both novice and experienced traders fall into the trap of placing exit levels based on how much money they want to win or lose, but to maximize one's profitability potential exit levels should be set based on current market volatility
New York, NY (Vocus) October 28, 2010
Leading provider of automated technical analysis, Autochartist.com, has made its popular PowerStats product available across its complete range of financial instruments. Unlike Autochartist's Chart Pattern and Fibonacci analysis services that provide trading opportunities, PowerStats provides traders with statistical analysis of price movement ranges as a guide of where to set stop-loss and take-profit levels.
Many traders believe that setting appropriate stop-loss and take-profit levels is even more important than the trade's point of entry. "Both novice and experienced traders fall into the trap of placing exit levels based on how much money they want to win or lose, but to maximize one's profitability potential exit levels should be set based on current market volatility," says Ilan Azbel, CEO Autochartist.com.
Autochartist's PowerStats analyzes expected price range movements over specified periods of time, thereby allowing traders to get an understanding of how volatile the market is and how likely they are to reach certain price levels.
The feature also provides novice traders with the ability to choose instruments that are appropriate for trading at certain times of day. Azbel says, "Despite the fact that we all have different risk profiles we are in the market to make a profit so it is vitally important to trade instruments that have a certain level of volatility during the times of day when you are able to trade."
PowerStats was previously only available for Forex instruments, but is now available for all financial instruments through Autochartist's web platform. Visit http://www.autochartist.com for more information about brokers offering the Autochartist web platform.
About Autochartist
Autochartist is the world's leading provider of automated technical analysis services, providing tools and technology to many of the world's largest brokers. Research produced by Autochartist across a wide range of instrument classes can be used by trend traders, swing traders, short and long term traders. The rigorous mathematical approach makes Autochartist a leading source of unbiased technical opinion and trading opportunities.
###