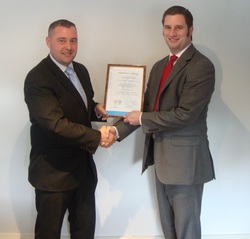 "it is a testament to the hard work of everyone here at Invictus that we have managed to successfully achieve this certification" Craig Goodwin, Director of Security Services
(PRWeb UK) October 28, 2010
Invictus Security Solutions Ltd, has gained ISO 9001:2008 certification for its Quality Management System, following a successful implementation and audit process. This well respected management system standard enables an organisation to demonstrate its ability to consistently provide quality products and services that meet customer, statutory and regulatory requirements.
Invictus Security Solutions provides bespoke security consultancy and training to public and private sector organisations both nationally and internationally. ISO 9001 certification will give Invictus' stakeholders even greater confidence in how it manages all aspects of its business activities both internally and externally.
Craig Goodwin, Director of Security Services for Invictus, said: "Gaining ISO 9001 certification was one of our key objectives for 2010. Its achievement demonstrates the continued quality of our business operations, it is a testament to the hard work of everyone here at Invictus that we have managed to successfully achieve this certification and continue to provide a first class service to all of our customers."
About Invictus Security Solutions
Invictus Security Solutions is a first class security consultancy and research organisation. Having gained their experience in some of the most hostile security environments across diverse business areas, market sectors and international boundaries, the company utilises this vast experience to add real value to any organisation or security function. The company has a great deal of experience providing security solutions to both the public and private sectors and across all business areas including defence, construction, recruitment and financial services. For more information about Invictus visit http://www.invictussecuritysolutions.com or follow them on twitter @invictus_secure.
###