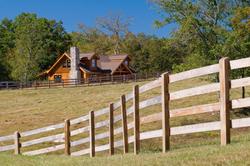 Spencer, TN (Vocus) October 28, 2010
So what is a Bunkhouse? Does a person need chaps and boots, saddles and steeds to own a bunkhouse , to live here? Perhaps, but more to the point, Developers Edmond Cash, Andy Cash and Rick Klewein came up with a plan to make it possible for people to live happily on the edge of pastures, lakes and creeks in the most ideal of settings in their almost 5,000 acre community, Long Branch Lakes at Fall Creek Falls. It's the location of The Bunkhouses that tugs at the heart.
"But if you do happen to like horses, there are so many things about the LBL Equestrian Center and the surrounding areas in the Equestrian Village here, that will cause you to stay a while ,and perhaps cause you to want to bunk down for a lifetime," says Lamar Wright, Resident Equestrian Manager at Long Branch Lakes.
Walking up to the barn comes with a greeting from Sydney, the resident pooch, followed by a "hey" from Lamar or Vanessa Wright, the full-time Resident Managers who keep things moving at a steady trot. It's their combination of genuine warmth and steely competence in all things equine, which will immediately put a person at ease whether you are an unskilled 'pilgrim´ or an accomplished rider trailing your own string of horses. And ride you can, with 30± of riding trails with names like "Hickory Nut" and "Saddle Horn" among the rest, they offer more than the promise of a good ride, because these trails thread through some gorgeous country. And for those who have made the choice to hang their hats in that special string of bunkhouses nestled in the middle of this glorious country, at Long Branch Lakes in Spencer Tennessee, it can be a 'Saddle Up' moment, just about any time of day.
There are only ten Bunkhouse homesites placed on a wooded rise overlooking the Long Branch Lakes Equestrian Center. Much to the delight of the community, six have recently been sold and only four remain to be claimed. The first bunkhouse, most appropriately being built on Homestead #1 is nearing completion, with others on the drawing board and soon to follow. Why it's simply this: a unique and relaxed character, blended into this exceptional landscape makes Long Branch Lakes at Fall Creek Falls, a home on the range, like few others.
Long Branch Lakes is a private gated community of almost 5,000 Acres located in Middle Tennessee on the Cumberland Plateau. Noted for its Rustic Mountain Architecture, 2 Bill Dance Signature Lakes , and 1,000 Acre Equestrian Village with its own full service and fully staffed Equestrian Center, Long Branch Lakes offers a relaxed and inviting outdoor lifestyle for its residents. For further information, please contact Susan Caruso by calling 931-316-1487 or email at susan(at)longbranchlakes(dot)com and visit longbranchlakes.com
###