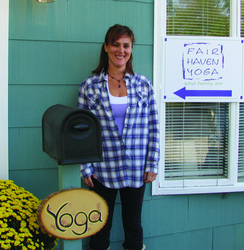 It will be a really fun day for the entire family, giving everyone a chance to try yoga for themselves and experience its therapeutic benefits.
Fair Haven, NJ (Vocus) October 28, 2010
Fair Haven Yoga, known for its encouraging instructors and family-friendly atmosphere, will be celebrating its grand re-opening on Saturday, November 13, starting at 11:30 am and continuing throughout the afternoon. Events will take place at its new, larger facility located at 770 River Rd #C (behind the Fairwinds Deli). Donations of good karma are welcome. Any tangible donations will go to the holiday fundraising efforts on behalf of the Children's Specialized Hospital.
After a ribbon-cutting ceremony and studio blessing, free classes will be held to introduce the most popular yoga styles and to help those with an interest in yoga find the style that best fits their needs. There will also be advanced yoga demonstrations, yoga games and activities for kids, food, face painting, yoga-oriented jewelry and gifts for sale. Said new owner Stacy Ross, "It will be a really fun day for the entire family, giving everyone a chance to try yoga for themselves and experience its therapeutic benefits."
Fair Haven Yoga, one of the first yoga studios in the Two River area, is a community-oriented studio, promoting the health benefits of yoga for everyone. Most recently owned by Darry Guli, this beloved community establishment has seamlessly transitioned to Stacy Ross, long-time Fair Haven Yoga Studio teacher. Stacy, a Fair Haven resident, has strong personal ties to this area.
"Stacy and I have worked together for many years. We share the same vision of building community by making yoga and wellness practices widely accessible. With Stacy's abounding energy, the full potential of this studio will finally be realized. Residents of Fair Haven and surrounding communities will find the variety of classes and level of instruction they want and expect right in their own neighborhood," Said Darry.
Fair Haven Yoga's revised schedule offers a variety of exciting new classes taught throughout the day and evening as well as workshops, training, and seminars. Adults and seniors can reach their fitness and weight management goals through classes in Kundalini yoga, chair yoga, Vinyasa, beginner's classes, yoga for athletes, classes for couples, men only, pre-natal classes, and even belly dancing.
Fair Haven Yoga has already increased its scheduling for children, from little kids to tweens and teens. Said Ross, "Yoga is one of the most effective ways to reduce childhood obesity and improve self-esteem. We are offering after-school classes and other child programs including teen/parent yoga. For children already involved in sports, yoga improves fitness and flexibility levels and reduces injury."
Said Ross, "Our larger location will give everyone room to spread their wings. This relaxing, beautiful facility features hardwood floors, a waiting area, private bathrooms, and plenty of parking." Adding, "With these changes, we can better serve our students. Of course, the founding philosophy, tone, and atmosphere established by Darry will continue. Everyone affiliated with this studio knows that Darry built something very special for the Fair Haven community based on her love and concern for people. That will never change."
Fair Haven Yoga offers an exciting, varied schedule of courses conducted by some of the best yoga teachers in a beautiful, conveniently located studio. For more information, please contact Stacy Ross at 732-741-1724 or visit http://www.fairhavenyoga.com. Fair Haven Yoga, together with Brahma Yoga, also founded Two River Tour de Yoga. Through this joint effort, quality workshops and concerts have been brought to the Two River area. For upcoming events, visit http://www.tworivertourdeyoga.com.
###