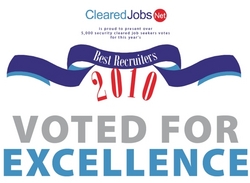 These "best" recruiters often go above and beyond to assist job seekers with their career search. The program is well received by both job seekers and recruiters at our Cleared Job Fairs.
Falls Church, VA (PRWEB) October 27, 2010
During each of the Cleared Job Fairs held throughout 2010, participating security cleared job seekers were given the opportunity to vote for the nation's top recruiting experience from a pool of employers and defense contractors seeking professionals with active security clearances.
Over 5,000 job seekers in the security cleared marketplace have since selected more than 120 recruiters from defense and intelligence government contractor companies as the best in the industry nationwide. "We want to show these chosen recruiters how much we appreciate their efforts," says Kathleen Smith, CMO, ClearedJobs.Net. "It's important to us that we take the time to appreciate our partners who work so hard."
According to Smith, job fairs can be a trying experience on both the recruiters and the job seekers. "By making this a pleasurable experience, everyone wins. The recruiters recognized as 'best' are those who spend extra time with the job seekers to help them better understand the opportunities with their companies. These 'best' recruiters often go above and beyond to assist job seekers with their career search," says Smith. "The program is very well received by both the job seekers and the recruiters at our Cleared Job Fairs."
Recruiters from the following companies were selected:

Booz Allen Hamilton
CACI
CSC
General Dynamics IT
L-3 Communications-Global Security & Engineering Solutions
L-3 Communications-STRATIS
Lockheed Martin
Northrop Grumman
Invertix
MorganFranklin
Raytheon
SAIC
Transportation Safety Administration
Serco
For the full list of companies and the Best Recruiters selected this year, please visit http://www.ClearedJobs.Net/bestrecruiters.
At this year's Best Recruiter Celebration — an exclusive, invitation-only event being held on November 18, 2010 at the Double Tree Hotel's Windows over Washington restaurant in Arlington, Virginia just before that day's Cleared Job Fair — renowned recruiting professional Gerry Crispin, Principal of CareerXroads, will be the featured keynote speaker. "Gerry is extremely enthusiastic about creating a positive candidate experience," says Smith. "I thoroughly enjoyed his presentation The Candidate Experience: Engage Them or Enrage Them at this year's debut recruitment education event recruitDC. I am confident Gerry will further inspire our 'Best Recruiters' with his insights and extensive experience in the field."
About ClearedJobs.Net
ClearedJobs.Net located in Falls Church, Virginia provides services and products to the security cleared community. Founded in 2001, the company supports security cleared professionals in their career searches by producing Cleared Job Fairs, posting on-line security cleared jobs and industry information to assist security cleared job seekers in their career transitions.
About the ClearedJobs.Net Cleared Job Fair
Cleared Job Fairs are career events exclusively designed for active and current security cleared professionals. Cleared candidates can meet with hiring managers from employers that have facilities clearances and who are currently hiring for new positions. These events are held all around the country on a regular monthly schedule. The next Cleared Job Fair will be held on November 18th in Arlington, Northern Virginia.
About Gerry Crispin
Gerry Crispin, Principal of CareerXroads, writes, edits and publishes the world's leading directory of Job and Resume sites. He also speaks and consults internationally on the future of staffing as well as serves on advisory boards and national expert panels for related non-profit professional associations (SHRM, EMA). For more information about Gerry Crispin or CareerXRoads, visit http://www.careerxroads.com.
###