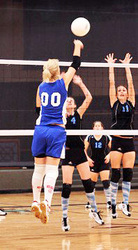 One million users is a significant milestone for the business, but the level of engagement and the utility for our users is what sets apart beRecruited.com
Atlanta (PRWEB) October 29, 2010
beRecruited.com, the largest and fastest-growing online network that connects high school student athletes with college coaches, today announced it has surpassed 1 million registered users on the popular college recruiting site.
beRecruited has seen exponential growth in the last few years with 84 percent of its user base creating profiles since 2008 though the site was originally founded in 2000. Boasting more than 14,000 active college coaches from 31 NCAA sports, beRecruited continues to deliver college recruiting resources and tools to more than 850,000 student athletes and 30,000 parents.
"One million users is a significant milestone for the business, but the level of engagement and the utility for our users is what sets apart beRecruited.com," said Jeff Cravens, president of beRecruited since October of 2007. "We're poised to deepen our relationship and audience interaction with the high school sports audience in innovative ways, utilizing our technology, functionality and effectiveness to broaden our unique relationship with our users."
High school athletes from more than 20,000 U.S. high schools, representing more than 180,000 high school teams have created academic and athletic profiles to broaden their exposure while researching potential collegiate programs. In the past two years, athletes have uploaded more than 750,000 photos and 60,000 videos as part of their "digital athletic resume" and efforts to get recruited.
On the flip side, college coaches search beRecruited's proprietary database for their ideal qualified athlete and set academic and athletic criteria for their school's program. beRecruited also has more than 31,000 active high school and club coaches.
"As I've told any parent of an athlete who asks me, beRecruited.com is one of the best examples of an elegant technology app filling a huge need," said Mike Principato, father of D.J. Principato, who is currently diving for the United States Naval Academy (Class of 2014). "No other site compares … for ease of use, quality and most importantly, results. My son was recruited by over 20 colleges, and although I'll take some of the credit for that success there's no question that THE most valuable recruiting tool we used was beRecruited.com."
beRecruited users have logged into the college recruiting website more than 9.5 million times and have generated more than 19.25 million connections directly through the tool.
Find beRecruited on Facebook and Twitter. For PR inquiries, please contact Cama Poffenberger at cpoffenberger(at)groupcse(dot)com.
About beRecruited.com
beRecruited.com's service is free, maintaining the founders' principle of providing a robust, cost-effective resource for athletes. For a one-time fee of $59.99 or a monthly fee of $14.99, student-athletes can enhance their profiles by becoming a deluxe-user. Founded in 2000 by Ryan Spoon, a collegiate swimmer for Duke University, it was first created exclusively for NCAA swimming and diving and now serves athletes and coaches from 31 NCAA sports including baseball, basketball, cross country, diving, field hockey, football, golf, ice hockey, lacrosse, rowing, soccer, softball, swimming, track and field, tennis, volleyball, water polo and wrestling. For more information, visit beRecruited.com.
###