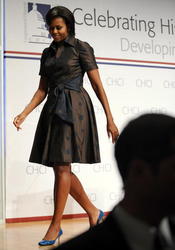 They were outstanding students, very dedicated and very serious. Kevan Hall once said, 'You were the toughest instructor I ever had, but I learned so much.'
Los Angeles, CA (Vocus) October 28, 2010
Fashion Designer and FIDM/Fashion Institute of Design & Merchandising Alumnus Kevan Hall has dressed numerous celebrities, including First Lady Michelle Obama who recently chose to wear one of his designs for a speech she gave at an event in Washington, D.C. celebrating Hispanic Heritage Month.
Mrs. Obama gave her remarks at the event wearing a bronze and navy silk taffeta polka dot shirt dress by Kevan Hall, which was subsequently featured in Us Weekly.
Known for creating gowns that are reminiscent of old Hollywood glamour, Hall has dressed stars such as Katherine Heigl, Vanessa Williams, Tina Fey, Virginia Madsen, and Maria Shriver. Glee's Jenna Ushkowitz walked the red carpet at the recent 62nd Primetime Emmy® Awards in a red silk chiffon bow gown designed by Hall. A native of Detroit, Hall won a scholarship to the fashion school and while studying in California he took a life-changing trip to Europe, sparking a lifelong love of luxury and haute couture.
FIDM Fashion Design Director Mary Stephens remembers when Kevan Hall and fellow success story Randolf Duke were students. "They were outstanding students, very dedicated and very serious. Kevan Hall once said, 'You were the toughest instructor I ever had, but I learned so much.'"
To see Kevan Hall's entire collection, visit http://www.kevanhalldesigns.com/.
With four dynamic California campuses, FIDM/Fashion Institute of Design & Merchandising is the premier west coast fashion design college, educating for careers in fashion, graphic design, interior design, and entertainment. FIDM's graduates include renowned fashion designers like Monique Lhuillier, Emmy® and Academy Award® award-winning costume designers, top fashion industry executives, and entrepreneurs.
###