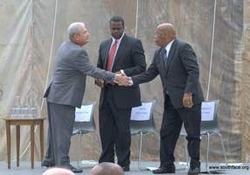 "We are proud to celebrate the opening of the SWEET Center – a building that will help propel Atlanta to become one of the nation's top ten sustainable cities!" Atlanta Mayor Kasim Reed
Atlanta, GA (PRWEB) October 29, 2010
Atlanta Mayor Kasim Reed, together with Congressman John Lewis and leaders from the Department of Energy and the Georgia Environmental Finance Authority (GEFA), joined Southface today to unveil the Southeast Weatherization and Energy Efficiency Training (SWEET) Center – the Southeast's green jobs training center.
A positive example of American Recovery and Reinvestment Act (ARRA) funds in action, Southface leveraged its ARRA investment by three to one, turning $200,000 of ARRA monies into a $600,000 SWEET Center facility and training program, with the help of its private sector and foundation partners.
In developing the SWEET Center, Southface has effectively increased its training space by more than 40 percent. This substantial increase in Southface's training capacity will, in turn, provide the means to incubate a much-needed new energy-efficiency and weatherization industry in the Southeast.
Commented Atlanta Mayor Kasim Reed, "We are proud to celebrate the opening of the SWEET Center – a building that will help propel Atlanta to become one of the nation's top ten sustainable cities!" According Dennis Creech, executive director of Southface, Southface expects to train more than 1,000 weatherization and energy-efficiency professionals from across the Southeast in 2011.
"The addition of the SWEET Center makes it possible to further expand our reach through both a mobile classroom and distance education that we will make available over the Internet," he said.
Southface is the only organization in the region to offer a comprehensive suite of building science certification training programs, in partnership with the U.S. Green Building Council, the Building Performance Institute, home builders associations, state governments, private sector partners and others.
To date, the SWEET Center has trained more than 700 weatherization professionals in residential and commercial weatherization, home retrofitting and energy-efficiency techniques, benefiting over 3,500 low-income households.
Summarized Congressman John Lewis, 5th District, "In these economically difficult times where families are squeezing the most out of every dollar, it is programs such as the Southface SWEET Center that not only allows Atlanta area residents to save money on their energy costs, but provides needed training and jobs for our citizens."
# # #