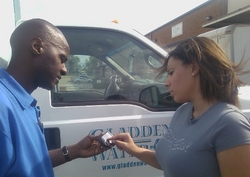 Canvas improved our business immediately since launch. We have saved time, paper, money and have much more
Herndon, VA (Vocus) October 28, 2010
Canvas, an industry leading provider of self serve mobile business apps, announced today that Gladden Water, a forward thinking provider of bottled water services, has equipped their field staff with Canvas in an effort to improve worker productivity, provide real time information to their workers and back office all while reducing their use of expensive, time consuming paperwork.
Data collection is critical in every aspect of the Gladden Water business. Trucks are inventoried at start and end of day and delivery data and signatures are collected at the myriad of homes and businesses their drivers visit daily. Prior to Canvas, Gladden used paper forms to inventory trucks and to collect information during their daily delivery routes. The paper, upon return, would be scanned and then would require further manual data entry to get this data into their billing systems. On an average day they were printing and maintaining 200-300 pages of paper data, that is nearly 65,000 pages a year.
Gladden Water had looked into paperless data collection systems for the last several years. Most solutions fell into the very expensive category and required costly equipment and rigid platform requirements that did not allow for much adaptation to their ever changing needs. The inexpensive options they found lacked the sophistication they needed in data collection or were so tied to robust internet connections that they would just not be practical for all the rural and deep office environments they deliver to. None of the solutions gave them the power to support multiple mobile device types nor provided them with a powerful but self serve way to obtain their own mobile business apps.
The Canvas offering provided a powerful, flexible and affordable mobile application experience for Gladden. Gladden utilized Canvas's self serve, web based experience to both search for pre-made business applications in the Canvas App Store as well as create their own custom experiences simply and easily. Once they had their mobile business apps, they were able to deploy them on the widest range of mobile devices and smartphones available including Blackberry, Android, Windows Mobile, Windows XP+ devices and soon on iPhone/iPad. The Canvas solution works even when Gladden workers are disconnected so they have access to their customer data and can continue filling out their electronic forms on their mobile devices when they are out of wireless coverage.
"These apps are a complete digital replacement for the forms we used before and rather than the limiting paper based forms, Canvas's Mobile Apps allow us do so much more including accessing key and critical historical data on each of our customer's accounts." stated Bob Jesperson, Principal at Gladden Water "At the end of every delivery our drivers have the option to deliver a digital copy of these forms to our customer's email addresses. With Canvas our data comes via one export that integrates directly into our systems, gone are hours and expense of printing, sorting, scanning, hand entering, etc."
Gladden was also able to keep their device costs down by using a mix of smartphones including pre-paid Android devices and the Blackberry devices many of their field staff had already owned.
Bob Jesperson added "Canvas improved our business immediately since launch. We have saved time, paper, money and have much more "accountable" transactions. Our customers' reaction to our new data collection has been very positive and there is a feeling we have moved out of the "dark ages" of paper and now have a paperless system that rivals that of our large competitors and yet we pay a fraction of the cost they spent on their systems."
About Canvas
Canvas makes it easy to publish data collection apps on wireless smartphones and other mobile devices such as laptops, tablets, bar code scanning devices and netbooks. Canvas reduces paper consumption, redundant data entry, and excess processes for businesses and mobile professionals. The Canvas software service enables mobile professionals to collect information using their mobile devices, analyze that data on the Canvas website and share information across their business community. Canvas also offers the first mobile business app store of its kind allowing business users to find mobile applications that work on a wide variety of mobile devices, with every application being customizable by Canvas users. Founded in October 2008, Canvas Solutions, Inc., is headquartered in Herndon, Va. Learn more at http://www.GoCanvas.com.
About Gladden Water
Gladden Water provides bottled water - bottling and distribution of premium bottled water and coolers to homes and businesses in the greater Dallas/Ft Worth and North Texas areas. Gladden supports the needs of thousands of customers regionally in Texas.
###