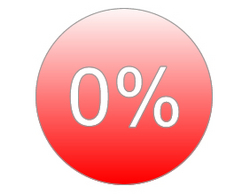 "Credit card companies don't really care about the consumer just about their profits."
Los Angeles, CA (Vocus) October 29, 2010
The days of 0 % credit card offers are returning to tempt consumers to spend, spend, spend. With thousands of Americans struggling to cope with rising debt is this a welcome offer?
Consumers with a high credit scores are been inundated with card applications and pre-approvals on credit cards offering 0% interest rates. Many of the offers have a range of 21 months. In general credit card delinquencies have shown a downward trend in 2010. According to recent figures form the Federal Reserve delinquency rates are down 26% compared to 2009. Many economists believe more of these tempting offers will appear on the market.
It seems this is a dramatic turnaround as these same consumers last year were unable to obtain credit.
Both the availability of 0% balance transfer offers and the number of people that can qualify for these offers have increased relative to the last two years, according to Odysseas Papadimitriou, CEO of CardHub.com, which tracks credit card offers.
Lawrence Williamson is an attorney Licensed in Kansas, he works with consumers facing high debt he says. "Credit card companies don't really care about the consumer just about their profits. Morgan Drexen provide automated legal documentation to law firms across America supports the Williamson Law Firm.
Walter Hundertmark a Kansas resident engaged with the Williamson Law firm with more than $21,000 of debt. Today he is debt free. Credit card debt was Walters's concern. Walter says, "I had six credit cards all I wanted was to get out of debt. We tried to cut down on our living costs but it was not possible. The attorneys got on the phone and settled our debt, so we didn't do any talking to the creditors. If it were not for Morgan Drexen I could not have afforded my own attorney."
For Kansas resident Lourdes Pacaol Langley it was $32,000 in debt that kept her awake at night. Medical bills and everyday items led her into financial hardship. Lourdes recalls. " After my husband died I did not have enough money to pay my bills." Lourdes engaged with the Williamson Law Firm. Lourdes says, "My English is not good the attorney provided someone to speak to me in Spanish. The attorneys were very helpful. They negotiated with my creditor. The result was great. I saved almost over $20,000. I was scared and very worried about finding money for bills. But no more, zero credit and no credit cards."
For many consumers across America the lower interest rate credit cards are not an option. For Lourdes and Walter they now avoid owning one, as the temptation is too great.
Media Contact-
Raychel Harvey-Jones
Office- 714 923 1500
###