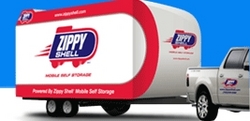 The Zippy Shell brand offers a seamless experience, from competitive pricing to convenient door-to-door service
Orlando, FL (PRWEB) October 28, 2010
A fresh concept in mobile self storage has arrived in the Orlando area in a big way. Bob Scheid and Josh Scheid, area residents and owners of Storage Strategies, LLC, have entered into a franchise agreement with Zippy Shell USA, LLC to offer door-to-door mobile self storage throughout Central Florida.
Storage Strategies, LLC is now the only self storage service, on wheels, that can be parked as a vehicle in and around cities, and is equipped with both an alarm and GPS for total security and peace of mind.
"The Zippy Shell system is a truly unique offering that we believe will revolutionize the self storage industry throughout Central Florida. The Zippy Shell brand offers a seamless experience, from competitive pricing to convenient door-to-door service. There's no doubt that using Zippy Shell mobile self storage when moving or decluttering your house will have a positive impact on busy consumers." said Rick Del Sontro, President, Zippy Shell USA, LLC. "We welcome Bob, Josh and the Storage Strategies, LLC team to the Zippy Shell family and look forward to working with them to make a positive impact in Central Florida."
Zippy Shell is a smart and easy door-to-door self storage solution on wheels, which gives customers the option to store, declutter their home or move their goods seamlessly and securely. By providing the service inside a registered vehicle, Zippy Shell franchisees provide service to a broader range of customers, including those in the heart of a metro city, with greater security than other mobile self storage operators who rely on unregistered containers or boxes.
"We're thrilled to join the Zippy Shell family. Central Florida is home to us and our business, and we understand the various moving and storage needs of our customer base. The Orlando metro and surrounding area has had a need for a service like Zippy Shell provides that would give customers a unique and affordable door-to-door self storage option, and we're happy to fulfill that" said Bob Scheid, CEO, Storage Strategies, LLC. "Whether decluttering to get your property ready for listing, utilizing storage to gain an extra room or two in your house, or making a short distance move across town, taking advantage of the Zippy Shell mobile self storage system through Storage Strategies, LLC is the way to go. We are confident the Zippy Shell brand can handle it all and look forward to serving the local communities with our unique service. Try our service out; give us a call!"
Customers interested in more information about Storage Strategies, LLC can visit ZippyShell.com or call (888) 947-7974.
###