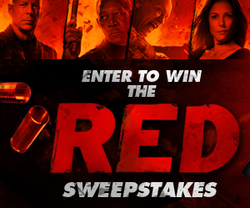 Gold Label is excited to launch the official RED merchandise store
Beverly Hills, CA (Vocus) October 28, 2010
Gold Label announces the opening of the official RED print-on-demand merchandise store at http://www.goldlabel.com/red-the-movie in support of Summit Entertainment's RED currently in theaters.
RED is the story of Frank Moses (Willis), a former black-ops CIA agent, who is now living a quiet life. That is, until the day a hi-tech assassin shows up intent on killing him. With his identity compromised and the life of the woman he cares for, Sarah (Parker), endangered, Frank reassembles his old team (Freeman, Malkovich and Mirren) in a last ditch effort to survive.
Directed by Robert Schwentke (The Time Traveler's Wife, Flightplan) from a screenplay by Jon Hoeber and Erich Hoeber (Whiteout), RED is produced by di Bonaventura Pictures' Lorenzo di Bonaventura and Mark Vahradian (Salt, Transformers, Transformers: Revenge of the Fallen). Executive producers are Jake Myers (Shanghai, Hollywoodland) and Gregory Noveck (Jonah Hex). Di Bonaventura Pictures' production executive David Ready serves as co-producer.
"Gold Label is excited to launch the official RED merchandise store," said Gold Label's Creative Director, Sherry Grisham. "We're thrilled to provide the opportunity for fans to customize official RED movie merchandise such as shirts and sweatshirts, RED tees and totes, RED hats, mugs and other items with official RED key art and designs."
"RED is a fun, explosive reminder of why we love action comedies," said Matt Reed, Managing Director at Gold Label. "The Gold Label community is buzzing about the film. Gold Label is proud to launch the official RED merchandise store and to expand our promotional efforts in support of the Summit Entertainment release with the Gold Label RED Sweepstakes on Facebook."
ABOUT GOLD LABEL:
Gold Label (http://www.goldlabel.com) empowers fans of today's hottest TV shows, movies, pop culture and humor brands to customize official t-shirts, hoodies, mugs and other licensed products at Gold Label entertainment merchandise stores. Gold Label licensing partners include Mad Men, Saw, Kick-Ass, The Office, Weeds, Spartacus: Blood and Sand, Heavy Metal, Dexter and Coca-Cola, among other fan favorite properties. Through strategic marketing and robust social media efforts, Gold Label connects rights holders with massive online communities obsessed with pop culture news, content and licensed products. Established in 2007, Gold Label is based in El Cerrito, California.
To visit the Gold Label Official RED Movie Merchandise Store: http://www.goldlabel.com/red-the-movie
To enter the Gold Label RED Sweepstakes, visit Gold Label on Facebook: http://www.facebook.com/glgoods
ABOUT SUMMIT ENTERTAINMENT, LLC:
Summit Entertainment, LLC is a worldwide theatrical motion picture development, financing, production and distribution studio. The studio handles all aspects of marketing and distribution for both its own internally developed motion pictures as well as acquired pictures. Summit Entertainment, LLC also represents international sales for both its own slate and third party product. Summit Entertainment, LLC releases on average 10 to 12 films annually.
###