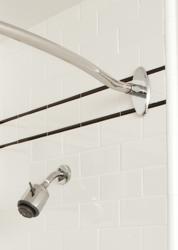 We call it the ultimate answer for Freedom of Movement
Santa Ana, CA (PRWEB) October 29, 2010
The NEW motiv® Curved Shower Rod not only provides more shower space – it has also been "solution engineered" for strength and longevity by the Brasstech design and engineering team in Santa Ana, CA. The elliptical shower rod has eliminated competitive challenges by utilizing a patented v-notch engagement bracket, capable of holding over 120 pounds of weight; the crucial solution for current marketplace "droopy rod syndrome."
Designed to last, while maintaining strong traditional, transitional and contemporary design elements, the motiv® Curved Shower Rod is available in three beautiful finishes that complement the latest finish trends in the industry; polished chrome, satin nickel and oil rubbed bronze. "Competitively, we have been able to address the design concerns of available brands to offer a more elegant and durable solution for both the consumer market and the hospitality-hotel industry. By designing a rod that works with many bathroom styles, our Curved Shower Rod makes the well-coordinated, uniquely designed bath complete and the product itself is engineered for long lasting use and enjoyment," maintains Product Manager James Hamilton.
Available in 5' and 6' lengths, the motiv® Curved Shower Rod promises no visible mounting hardware for a clean, polished look. The extra 6.25 inches of shower space will make every shower feel larger and more luxurious without the expense of remodeling. "We call it the ultimate answer for Freedom of Movement," adds Hamilton. "And we are excited to offer this freedom for everyone!" Shower rings in matching finishes are available separately.
Motiv® is known for its cutting edge, contemporary flair with architectural nuance and hospitality appeal. Motiv® is the preferred brand for affordable luxury bathroom accessories that incorporate smart features, high quality and unique designs. Established in 2002, motiv®, a GINGER series, part of the Brasstech family of brands, is the leader in subtle detailing, superior materials and superb craftsmanship.
Brasstech, Inc. is a business unit of Masco Corporation headquartered in Taylor, Michigan. Masco Corporation is one of the world's leading manufacturers of home improvement and building products, as well as a leading provider of services that include the installation of insulation and other building products.
Media Contacts:
Kristen Cooper, Kristen Cooper Public Relations
(310) 855-0485 kristen(at)kristencooper(dot)com
Jonathan Wood, Vice President, Sales & Marketing
(949) 417-5201 jonathanw(at)brasstech(dot)com
For additional information regarding exciting new products, consumers can visit the motiv website or call (949) 417-5207
# # #