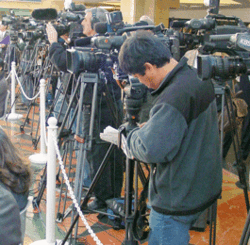 Our effort to address climate change must not worsen our state's economy, our severe unemployment, or continuing fiscal crisis
Los Angeles (PRWEB) October 28, 2010
"Our effort to address climate change must not worsen our state's economy, our severe unemployment, or continuing fiscal crisis," Southern California leaders advise the California Air Resources Board on the eve of their issuance of proposed AB 32 regulations.
Former Governors Gray Davis, Pete Wilson and George Deukmejian joined the Southern California Leadership Council (SCLC) in writing a letter urging the California Air Resources Board to recognize the fragile economic conditions in California and carefully consider how to proceed with AB 32, California's climate change initiative.
AB 32 sets a goal of reducing California's greenhouse gas emissions to 1990 levels by 2020, with an ultimate goal of an additional 80 percent reduction by 2050.
With the state's unemployment at 12.4 percent, the third-highest in the nation, the SCLC cited business and job loss information -- including locations in other states where more than 2,500 of the state's employers have taken 109,000 California jobs. The national relocation map provided shows all the other states where these businesses have gone and underscores the potential impact of new AB 32 regulation, particularly for sectors like manufacturing and wholesale trade where the state is losing two jobs for every one job added.
SCLC has offered CARB specific recommendations to minimize the unemployment consequences, including price ceilings on carbon allowances, adequate supplies of offsets, and free allowances for "trade exposed" industries like manufacturing and wholesale trade.
Also recommended is a package of economic development incentives to attract and retain manufacturers whose research and development and products are focused on energy and water efficiencies, air quality and greenhouse gas reductions for advanced transportation, renewable energy and other clean technologies.
Recent announcements from California-based CEOs, including those from Intel and Cisco, indicate any new expansions -- potentially with thousands of good paying jobs -- would go "anywhere but California." According to the SCLC, this reinforces what business relocation experts already know, that the business and regulatory climate in California is already the worst in the nation, and that California must turn around this private sector job loses to grow the economy, reduce unemployment and solve its fiscal crisis.
For the full story and map of business relocations from California visit: http://www.mayocommunications.com/2010-NEWS%20RELEASES/NR-360.htm