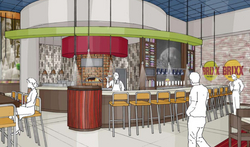 Tobin Starr + Partners developed a system that will allow franchisees to create their own identity, yet capitalize on the broader Brixx brand. We're excited about rolling this out.
Charlotte, NC (PRWEB) October 29, 2010
Tobin Starr + Partners marked the completion of a significant brand refinement and franchise standards project for Charlotte-based restaurant chain, Brixx : Wood Fired Pizza, this month.
The two-phase project defined and clarified the restaurant's unique brand and created a restaurant environment that clearly communicates the Brixx experience to patrons. The summary of this work is recorded by Tobin Starr + Partners in a Brixx Brand Standards Manual. These brand standards provide flexibility for both new and existing Brixx franchisees within the newly defined design concept.
Brixx co-founder and partner Eric Horsley tapped Steve Starr and Tobin Starr + Partners to update and refine the restaurant's look and image that was initially designed in 1997 for the first Brixx location on Charlotte's East Boulevard.
"It was time to get current and to refine what we're trying to convey to our customers," says Horsley. "Our efforts to franchise in a number of markets necessitated a fresh look at the Brixx brand and dining experience. We've known Steve and have been watching his work through the years and brought his group in for the project."
"Brixx has had a 'cool factor' since its inception," notes Starr. "As they expanded, it went from urban areas to suburban areas, losing a bit of its comfortably edgy brand character. We've designed the new concept to regain some of that edginess, update the aesthetics and employ sustainable materials as appropriate."
Brixx earned recognition as one of the "10 Emerging Chains to Track" by Restaurants and Institutions, and plans to open more than 50 restaurants in the next three years. Currently, Brixx franchises in Alabama, Georgia, Kentucky, Tennessee, and the Washington, DC metro area have been awarded.
At the Brixx Annual Franchise Conference earlier this month, Tobin Starr + Partners' Steve Starr and Leslie Povall presented the new restaurant identity. Major elements include a refined logo, signage, interior graphics, plan layout and lighting design. An important part of the new design is a broad palette of finish materials that are intended to be mixed and matched. Care was taken to ensure that there are no possibilities for wrong choices.
"We were adamant about crafting a finish palette that allows franchisees to have creative control within the system, minimizing friction with corporate standards," says Steve Starr. "Typically with franchises, finishes are either all exactly the same or a free-for-all with no standards whatsoever. Brixx aspires to maintain a local feel at all of their locations and believes strongly that franchisees are experts in their specific neighborhoods and can select finishes that will reflect that and engage customers."
In addition to extensive work on the physical design, Tobin Starr + Partners reengineered the Brixx franchise development process. One example of this is how material sourcing has been streamlined through the creation of national account vendors. Tobin Starr + Partners also devised approval processes to be used between the franchisees and the Brixx corporate office.
"It's not common for an architect to be able to revamp client processes, but it made sense for us to go that extra mile to ensure quality control as well as to protect the brand vision that Brixx embraces," adds Starr.
"We see this entire body of work as a controlled evolution of what we've set out to accomplish with Brixx," adds Horsley. "We've always wanted to fit in with the neighborhood, wherever we open a restaurant. That becomes a challenge when you're franchising further away from home base in different settings. Tobin Starr + Partners developed a system that will allow franchisees to create their own identity, yet capitalize on the broader Brixx brand. We're excited about rolling this out."
Brixx was launched by Eric Horsley, Jeff Van Dyke and Barbara Bodford-Morgan. In 2007, they partnered with McAlister's Deli and Newk's Express Cafe co-founder, Neil Newcomb, creating Brixx Franchise Systems LLC. Brixx currently has 19 locations in North Carolina, South Carolina, Tennessee and Virginia.
Tobin Starr + Partners was founded by professionals who have experienced great success at preeminent design firms. With a strong desire to stay immersed in the craft of architecture, planning and design, they've built a firm that strongly engages their clients and brings together diverse talents and backgrounds. The firm's approach springs from a founding philosophy of always addressing work in a manner that's strategic, creative and responsible. Tobin Starr + Partners works within three primary practice areas: restaurants and retail; cultural, civic and higher educational; and corporate and commercial. Additionally, the firm offers expertise in facilities architecture and construction services. For more information, visit Tobin Starr + Partners on the web at tobinstarr.com.
###