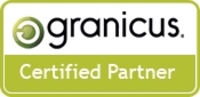 The Questys-Granicus Connector allows users to export agenda data into the Granicus system as well as import videos and minutes from Granicus onto Questys for storage and archival," said John Harper, Global Sales Director for Questys
Santa Ana, CA (PRWEB) October 28, 2010
Questys-MessageVision, an advanced electronic records & document management solutions provider, today announced that it's among the first companies to achieve Certified Partner status in the Granicus Partner Network. Granicus, an award-winning cloud computing provider for government transparency, efficiency, and citizen participation, is building an exclusive Partner Network of best-of-breed technologies that help government agencies provide better services to citizens while improving cost-efficiency.
"The Questys-Granicus Connector was designed to improve the day-to-day operations of staff members responsible for agenda and minutes preparation by avoiding manually duplicating data from one system to another. The Connector allows users to export agenda data into the Granicus system as well as import videos and minutes from Granicus onto Questys for storage and archival," said John Harper, Global Sales Director for Questys. "Achieving Certified Partner status from Granicus ensures our users quick and easy integration."
Brenda Alcazar, Deputy City Clerk for the City of Santa Barbara says "The Questys-Granicus Connector helps us with our meeting workflow because all of the agenda data is sent to Granicus. It helps during the meeting because the recommendations and subjects are there, and after the meeting it makes it so easy for us to prepare our minutes."
Leveraging Granicus' new Open Platform API, the companies developed the Questys-Granicus Connector that seamlessly integrates their technology workflows. This combines Questys' agenda management and Granicus' webcasting and live meeting technologies into one powerful solution. Now, joint government clients are fully equipped to capture and manage legislative information with maximum efficiently and accuracy. The end result tightly integrates public records—audio, video, agendas, and supporting documents—into a digital public record that's conveniently accessible to staff and citizens online anytime, anywhere.
"Questys has a proven track record of developing robust and reliable agenda management solutions for government. We're proud to offer the Questys-Granicus Connector to help our customers take their legislative processes to the next level with advanced automation and integrated workflows," said Tom Spengler, Granicus CEO and Co-Founder. "This new Connector combines two best-in-class solutions that deliver more value and overall performance together than any competitor with a 'one-size-fit-all' solution. With so many unique needs, processes, and technology infrastructures in government, delivering a flexible, open architecture is a critical component of achieving success."
As a Granicus Certified Partner, Questys has demonstrated the highest level of expertise and has proven its ability to meet governments' need for agenda workflow automation. To attain this status, Questys underwent a rigorous approval process to ensure that the integration connector met testing, workflow, documentation, training, and support requirements.
The Questys-Granicus Certified Connector can be purchased with any Granicus or Questys government solution. The Connector is also included with Granicus' Legislative Management Suite. They are packaged with user documentation, pre-defined installation steps, testing, and client support.
For more information read Certified Partner Connectors Enhance Legislative Management or email api(at)granicus(dot)com.
###