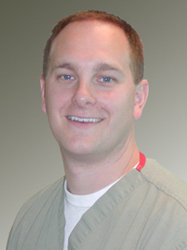 "The most rewarding aspect of my job is having my patients tell me, 'Doc I look and feel 10 years younger!'" - Dr. Jason Lukasewicz
Pittsburgh, PA (PRWEB) October 30, 2010
Nu/Hart Hair Clinics, the world leader in hair restoration, welcomes Dr. Jason Lukasewicz to their team of hair transplant physicians.
Dr. Lukasewicz, who has been in the hair transplant industry since 2004, has performed over a thousand hair restoration procedures and understands hair transplantation from the perspectives of both the patient and physician.
"I suffered from hair loss and wanted to do something about it," commented Dr. Lukasewicz, "Getting my hair back has made me feel younger, have more self-esteem, and more confidence in my day to day activities."
Not only did hair transplantation change his appearance, but it also changed the direction of his career. He was so impressed with the results of his own hair restoration surgery that, for the first time in his career, he shifted his focus. It was at this turning point that Dr. Lukasewicz decided to become a hair transplant surgeon.
Dr. Lukasewicz completed his undergraduate studies at Lebanon Valley College in Annville, Pennsylvania and achieved his Doctorate of Osteopathic Medicine degree from Lake Erie College of Osteopathic Medicine. Seeking to perfect his surgical skills, Dr. Lukasewicz successfully completed a fellowship in Hair Transplantation Surgery.
With Nu/Hart, he will be performing both the Strip and NeoGrafting methods of hair transplantation in their New York, Philadelphia, and Pittsburgh offices.
Traditionally, hair transplant has been performed by taking a strip of tissue and hair from the back and sides of the head and dissecting into individual hair grafts to be transplanted into the thinning and balding areas.
In contrast, the NeoGrafting / Follicular Unit Extraction (FUE) procedure transplants individual follicular units, one by one, from the donor to the recipient areas without removing a strip of tissue, thereby eliminating the need for stitches and suture removal a week following the procedure
The healing process following FUE is more rapid and comfortable to the client.
Several other doctors at Nu/Hart perform both procedures in the U.S. as well as overseas.
According to Kathy Smith, President of Nu/Hart, "Our organization has invested several years of research on testing seven different follicular unit extraction (FUE) instruments as well as designing our Neografting treatment protocols to extract and transplant the maximum number of follicular units in a timely manner."
The ultimate benefit of this technique is a happier client who can receive a large number of follicular units in a single session, rapid healing, no visible scars, and no stitches, and in many cases no shaving of the donor area.
For Dr. Lukasewicz, the most satisfying aspect of being a hair transplant surgeon is when patients return to see him with a full head of hair. "Seeing patients at the follow-up visit, after their hair has grown in, is so gratifying to me. Especially seeing their reaction to the stark contrast between their 'Before' pictures and who they see looking back in the mirror now," smiled Dr. Lukasewicz, "but the most rewarding aspect of my job is having my patients tell me, 'Doc I look and feel 10 years younger!'"
Hair transplantation is now an affordable procedure, particularly with the availability of zero interest financing in the U.S. market.
Nu/Hart has been in existence for over 20 years and has hair transplant centers in New York, Chicago, Philadelphia, Atlanta, and Pittsburgh, as well as several international locations including Puerto Rico, London, Dubai, Manila and Hong Kong.
Nu/Hart physicians have performed over 30,000 individual hair restoration procedures on clients from over 40 countries.
For further information, visit the Nu/Hart web site at http://www.nuhart.com or call them at 1-800-776-7775 or email info(at)nuhart(dot)com.
# # #