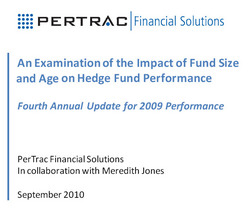 "Coming off the worst calendar year losses in history in 2008, the hedge fund industry provided investors with a strong comeback in 2009. According to our research, the rally was led by the younger funds," said Jeff Hendren, Co-President of PerTrac.
New York, NY (PRWEB) October 28, 2010
PerTrac Financial Solutions (http://www.pertrac.com), the leading provider of analytic, reporting and communications software to the investment industry, today released its fourth annual study examining hedge fund performance, volatility and risk as they relate to the size and age of a fund. The analysis of 2009 hedge fund performance reaffirms the existing trend of less tenured funds outperforming older ones and reverts to findings from earlier studies indicating that small to mid-sized funds outperform larger ones.
"Coming off the worst calendar year losses in history in 2008, the hedge fund industry provided investors with a strong comeback in 2009. According to our research, the rally was led by the younger funds," said Jeff Hendren, Co-President of PerTrac. "When we looked at performance according to the size of a fund, our research revealed that the small and mid-sized funds achieved the highest performance. These two findings are likely related because fund size tends to correlate with fund tenure."
As in past studies, PerTrac conducted two different analyses: one based on a fund's asset size, and the other based on a fund's age. Monthly hedge fund returns were compiled from leading hedge fund databases and analyzed using the capabilities of the PerTrac Analytical Platform. This software provides comprehensive access to manager performance data as well as statistical performance and simulation tools that, among other things, analyze and report returns across large indices.
For each of PerTrac's fund size and fund age performance analysis, funds were categorized into one of three groups. For size, three groups were based on assets under management (AUM) as follows: AUM up to $100 million; AUM of $100 million to $500 million; and AUM greater than $500 million. For age, the three groups were classified as funds with less than 2-years tenure; funds with 2 to 4 years; and funds with over 4 years. The mean fund return was calculated for each group in each month, yielding three size-based monthly indices and three age-based monthly indices. Various risk and return statistics were calculated on the returns of each of the six indices to evaluate historical performance, while Monte Carlo simulations were run on the indices to indicate probable ranges of future returns and drawdowns.
Young Funds Continued to Outperform More Tenured Funds in 2009, Albeit Marginally
Following the findings of previous studies, in 2009 the youngest funds returned an average of 19.81%, while the mid-age and tenured funds gained an average of 18.65% and 19.80%, respectively. Interestingly, 2009 performance was the closest in the history of the study, with young funds outperforming tenured funds by only 1 basis point.
"One of the best explanations for the drop in outperformance by younger funds is the marked decline in the number of new funds that started in 2008 and early 2009," said Jeff Hendren. "The number of potential managers choosing to sit out the market meltdown and wait for a better trading and capital raising environment could have been a drain on the overall performance of the group of younger funds."
In a reversal from 2008, Small and Mid-Sized Hedge Funds Outperformed Larger Funds
In PerTrac's historical research from January 1996 to December 2007, examining the impact of size on hedge fund performance, analysis showed that smaller funds yielded higher returns than larger ones. 2008's research differed by finding that larger funds had lower losses than smaller funds, perhaps not yielding overall capital growth, but certainly realizing fewer losses (-14.10% vs. -17.03% for smaller funds).
However, PerTrac's update of this research for hedge fund performance in 2009 once again supports the findings from the full history of the indices: smaller funds perform best. In 2009, small and mid-sized funds achieved close performance of 19.78% and 20.18% respectively, significantly ahead of large funds at 17.00%.
"As noted in PerTrac's research for 2008, one year does not make a trend," said Meredith Jones, Director, Strategic Consulting at Barclays Capital, who collaborated with PerTrac on the update to the study. "With respect to size of a fund, while the smaller funds have demonstrated higher returns since 1996 – except for 2008 – the potential to produce a higher annualized return comes with higher volatility. This possibly explains why, in 2008, a year in which all fund sizes had negative returns, smaller funds were more negative than mid-sized or larger funds."
For further information about PerTrac's research into the impact of fund age and size on hedge fund performance, download the report for free from PerTrac Financial Solutions at pertrac.com.
An additional update to this study for 2010 will take place in early 2011. The research was originally published in the February 2007 issue of the investment journal Derivatives Use, Trading & Regulation (re-titled in May 2007 to Journal of Derivatives & Hedge Funds).
About PerTrac Financial Solutions
PerTrac Financial Solutions provides sophisticated decision-making, reporting and communications software and services for investment professionals, including hedge funds, fund of funds, prime brokers, family offices, endowments and industry service providers. More than 1,500 clients in 50 countries use PerTrac's software to manage processes more effectively, enabling them to maximize returns, reduce risk and operate more efficiently. The PerTrac Analytical Platform is the world's leading asset allocation and investment analysis software, providing a complete array of statistical measurements and investment data that is integrated with capabilities for portfolio construction, optimization, performance analysis, retirement planning and scenario simulation. PerTrac CMS allows investment teams to collaborate in order to profile funds, manage due diligence and communicate with investors or managers. PerTrac Portfolio Manager is uniquely designed to help investors create, monitor and manage multi-manager portfolios of alternative investments. PerTrac Financial Solutions, founded in 1996, is headquartered in New York with offices in London, Hong Kong, Tokyo, Reno, and Memphis. For additional information on the full suite of PerTrac software solutions, please visit pertrac.com
PR Contact:
Meg Bode
Bode Associates
1-516-869-6610
###