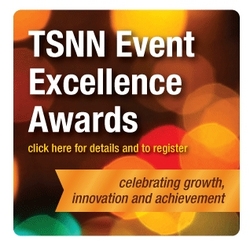 "The goal of the evening is to create in the industry an important event to recognize the accomplishments that occur day in and day out by the terrific people that we're all so lucky to call our colleagues,"
Peterborough, NH (PRWEB) October 29, 2010
The Inaugural TSNN Event Excellence Awards and Dinner will kick-off on the evening of Wednesday, 11-10-10 - at the culmination of the MTO Summit in Washington D.C.
This inaugural event was created to celebrate the growth, innovation and achievement that exist in our industry. Every day, show organizers work to promote their events, launch new ones and better serve their attendees and exhibitors by creating amazing marketplaces for commerce.
We will celebrate success in this first year by looking at the growth and achievement for one show each in the Trade, Association and overall Show Management sectors.
The evening will be emceed by Adam Schaffer, president of Media Revenue Partners and the former publisher of Tradeshow Week Magazine.
"The goal of the evening is to create in the industry an important event to recognize the accomplishments that occur day in and day out by the terrific people that we're all so lucky to call our colleagues," Schaffer says.
The Distinguished Leadership Award for special achievement in the industry will celebrate the work of a true icon in the business and will be presented to Bob Harar, Founder and Chairman of National Trade Productions, at the dinner.
"Bob simply keeps reinventing himself and his business in the most positive way imaginable. He is truly dedicated to our industry and, as evidence of this, will be coming to the TSNN Event Excellence Awards directly from the launch of his latest show the GovGreen Conference and Exposition in Washington DC. We look forward to honoring him on this special evening," Schaffer commented.
The Shows Honored for Outstanding Growth will include:

InfoComm International
Electronic House Expo Spring
Global Gaming Expo (G2E)
Greenbuild International Conference and Expo
Hospitality Design
ISC West
Kitchen/Bath Industry Show & Conference
SHOT SHOW
Surf Expo
The Great American Trucking Show
ABC Kids Expo
Firehouse Expo
Natural Products Expo West/Supply Expo
Outdoor Retailer Summer Market
Premiere Orlando
TEAMS Conference & Expo
Additional Awards (to be announced at the dinner) will be for:
"Best Performance by a Tradeshow"
"Best Performance by an Association Show" &
"Best Performance by a Show Organizer."
This first TSNN Event Excellence Awards evening event will lay the foundation for weekend-long celebrations in future years – where the best and the brightest in the business will gather to network, connect and celebrate working in an industry like no other – and acknowledging and embracing the success that we have mutually achieved.
The TSNN Event Excellence Awards Dinner is part of the MTO Summit and tickets can be purchased here.
TSNN
The Trade Show News Network (TSNN) is the world's leading online resource for the trade show, exhibition and event industry since 1996. TSNN.com owns and operates the most widely consulted event database on the Internet, containing data about more than 18,000 trade shows, exhibitions, public events and conferences. TSNN features an expanding Industry News and Thought Leader blog with contributions from industry leaders and analysts. We help facilitate the exchange between buyers and sellers with over 137,000 registered website users, over 120,000 newsletter subscribers and over 3,000 LinkedIn group members and thousands of followers on Twitter. To learn more about TSNN visit http://www.TSNN.com
MTO Summit
In 2008, Tarsus Advon launched MTO Summit, a series of executive level conferences which bring together the buyers and supplies of technology in the events industry. The goal of MTO Summit is to bring an extension of MeetingTechOnline website into reality with a face-to-face networking event. These nationwide conferences educate association executives, show producers and management on technology in the events industry, and introduce technology suppliers who are changing the way technology is used. For more information and to register for the MTO Summit go to: http://www.mtosummit.com
Tarsus Advon
Based in Austin, Tarsus Advon oversees online publications and community portals that provide technology information and education for the event and tradeshow industry. Tarsus Advon also conducts research with show organizers, technology suppliers, and industry experts. Qualitative and quantitative data are respectively gathered though primary sources and survey analysis. Events are designed to educate event and exhibition professionals about the latest trends and developments in technology. Tarsus Group acquired Tarsus Advon in 2010
TSNN Press Contact:
Arlene Shows
ashows(at)tarsus(dot)com
603-925-1160
###